The Murals of Lake Placid
"The Dream That Didn't Die"
Lake Placid, FL 33852
1-800-L-K-PLACID
December 29, 1999
With the thousands upon thousands of small towns that dot the United States, it isn't unusual to see cities that started out as one person's or one group's dream only to end up, in some cases, a ghost town, or in others just another small dot on the map with very little to recommend it to the passing traveler. Well fortunately this is not the case with Lake Placid. Originally Lake Placid started out as Lake Stearns, having been name for Marcellus Stearns who was the U.S. Government Surveyor General at the time. (This would have been just after the Civil War or the War Between the States as the southerners like to call it). At one time during its history Lake Stearns was the largest town in area in the United States. What comprises the present Lake Placid, though sparsely settled, was then the center of population. Then in the 1920's a man named Dr. Melvil Dewey arrived in the area and had a dream of making the place a winter playground for snow weary Northerners. It was said that Dr. Dewey found the locale similar to his native Lake Placid, New York (minus the snow of course). He spurred development of the community as a resort and as a result of a legislative act, the town was renamed Lake Placid. Dr. Dewey (and yes, for you readers out there, it is the same Dr. Dewey who came up with the Dewey decimal system used to catalogue our library books) wanted to make Lake Placid a town that would be a vacation place for northerners just as Henry Flagler had done with other cities in Florida such as, St. Augustine, and Palm Springs. Unfortunately for Lake Placid this was not to be the case. In the early days of its incorporation, Lake Placid did thrive as a resort town. However, the spontaneous growth that Dewey expected did not occur. And as the years passed, Lake Placid found itself like many towns with a quick growth spurt, relegated to just another small town on a map and the tourist traffic had dwindled considerably.
When we heard about Lake Placid and its fantastic Murals from another camper we had to go see for ourselves. As is the case in many areas we stopped by the Chamber of Commerce to find out some information about the area. Well, little did we know that we would really find a gold mine in this particular office, as we found out that the Lake Placid Mural Society not only had their offices there, but they had renderings of all the murals in a rear gallery. As we came to find out a rendering is a perspective drawing depicting an artist's conception of a finished mural. The paintings were lovely. We were introduced to Gail Tuttle who works for the society and does "on site" tours for large groups of visitors to Lake Placid. She was bright, friendly and knowledgeable about just about everything in Lake Placid, including but not limited to the Murals. She gave us a short explanation about each of the paintings, who the artists were, and something that they created for the viewers; little hidden items in each mural. Plus we found out that some of the murals include motion activated sound. Some years after the Murals came into being, people in the town found themselves irritated with the trash that was being thrown in their beautiful little town by inconsiderate people, and an insufficient number of trash containers. So they have now started a project of placing attractively painted trash containers in front of each Mural. Most fit in with the theme of the painting. Wow! I was very impressed with Gail's knowledge and thought to myself, "I certainly couldn't find anyone else that would know this much about our subject." Well, was I ever wrong. While Gail was extremely knowledgeable we were yet to meet Harriet Porter. Harriet Porter is a petite lady who, along with her husband Bob, founded the Lake Placid Mural Society. We were fortunate enough to be able to interview her the day we were there. My first impression was "a lady with a mission". And our interview was to prove this theory quite correct. In our interview we came to find out that six years after their retirement, Harriet along with her husband, Bob, were touring the United States on their Goldwing Motorcycle. In the course of their travels they noted that a large number of the small towns in America seemed to be drying up. It reminded them that their own beloved Lake Placid was suffering similar problems with some 13 vacant stores along the main street. It was at this time that they came upon the small town of Chemaimus while touring Van Couver Island, BC, Canada. A town which had been suffering from a likewise condition and had completely turned their economy around by creating giant murals on the sides of the building throughout the town.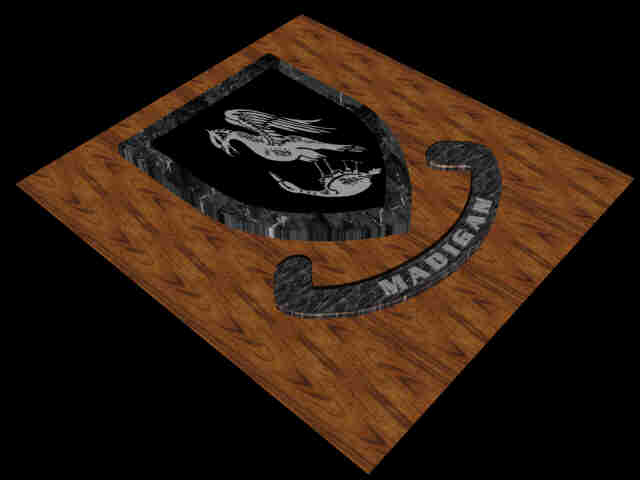 HOME PAGE Next >>>>>