Lakeview Museum
of Arts & Sciences
1125 W. Lake Ave.
Peoria, IL 61614
June 25, 2006
While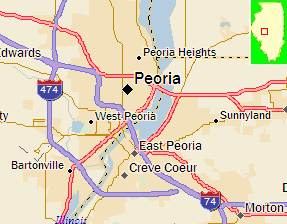 we were staying at a campground in Carlock, IL, I started looking around for somewhere to visit. A brochure on the Lakeview Museum in nearby Peoria caught my eye. We learned that the Lakeview Museum Planetarium was the first component of the Lakeview Museum. The planetarium was opened in 1963, two years before the Museum was constructed. We have visited planetariums in other parts of the country but the concept of this one was truly different. The Museum's Solar System model is scaled to the size of the Planetarium dome and stretches throughout 675 square miles in central Illinois, making this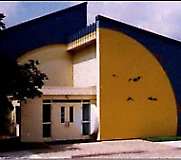 the largest solar system model in the world. The Sun is represented on the east wing of the Museum. Planets are sized to scale, based on a 36-foot Sun, and placed in orbit to scale up to 40 miles away, offering a unique earthbound concept of the vastness of space. The planets are actually located on various buildings around town. It is the most unusual concept that I have ever seen. A list of the other planets and their locations are:
MERCURY - Peoria Camera Glen & University Peoria
VENUS - Brown Printing 609 W Glen, Peoria
EARTH - Beachler's Servicenter University at War Memorial, Peoria
MARS - The School House 2301 W. Glen, Peoria
JUPITER - Bradley University, Olin Hall 1501 Bradley Ave, Peoria
SATURN - Kroger's 201 S. Main, East Peoria
URANUS - Mineral Springs Park, Pekin, IL
NEPTUNE - Roanoke Motors Rt 116 W - west edge of Roanoke, IL
PLUTO - Good's Furniture, Rt 78 & 34, Kewanee, IL

Lakeview Museum features a number of temporary and permanent art and science exhibitions. Our first
stop in the Museum was the Discovery Center. They present a number of interactive exhibits which provide educational fun for kids of any age. One I especially like was a board made up of plastic pegs that could be pushed in various depths. Bob and I tried pushing our faces up against them. We thought they came out pretty neat. In addition to the peg board, they have a number of scientific exhibits presented in such a way as to pique children's interest in science. I heartily approve any type of museum or display that gets children started learning about science. Their future is limitless in this area.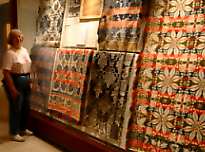 The next display we came upon was on weaving. I have always been interested in weaving. We have visited museums of all shapes and sizes and seen looms that ranged from hand-carved to large factory looms. This display featured Jacquard looms. I have always been fascinated with the material produced by these looms. There is a design on one side of the material that is duplicated in opposite colors on the other side. I imagine that today these looms are controlled by computers, however, when the looms were originally built they were controlled by cards which had extremely complex designs punched into them. The imagination of the human mind never fails to interest me.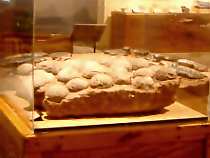 Our next was an exhibit on prehistoric creatures. While I realize that children today are very interested in dinosaurs, I thought "this one is going to be boring". Once again, I was surprised at the ingenuity of the presenters. One of the exhibits was of Theropod Eggs. This is a cast of a fossilized nest made by a dinosaur that roamed southern China near the end of the Age of Dinosaurs during the Late Cretaceous period. The 33 elongated eggs found in this nest probably belonged to an oviraptor, a light, fast-moving carnivorous dinosaur. Paleontologists believe that oviraptors may have cared for their eggs like most modern birds. It gave me a whole new look at something that is usually presented as such monsters in the modern movies.
There are always traveling exhibits which constantly change. If you are ever in the area, be sure to stop by this most fascinating museum. To check on times and admission fees go to: http://www.lakeview-museum.org.
Good Luck! Have Fun! and Stay Safe!
Laura