Battery Point Lighthouse
Battery Point Island
Crescent City, CA
October 13, 2002

As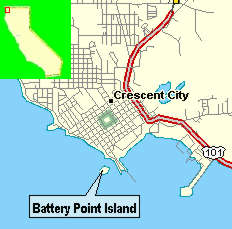 we made our leisurely trip down the west coast we stopped in a small town in California called Crescent City. We had stayed in this area a couple of years ago and I was looking forward to having some of the delicious mussels at a local restaurant. Well, much to my chagrin we were told they didn't have any mussels at this time because there was a warning that the mussels might be infected. Bummer! Oh well, we went off in search of something to see in the area. We were told there was an interesting lighthouse located just outside of town. The person that told us said to be sure we got there at low tide. Not being a sea-savy person I asked them why and they just kind of chuckled and told me we would see when we got there. Well, when we approached the lighthouse we were greeted with a sign giving hours, days, etc., it seems that the lighthouse is now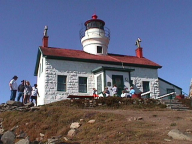 occupied by a couple who are the caretakers for the State. I very quickly found out why we had to go at low tide. As you can see in the pictures the road leading up to the lighthouse is completely underwater at high tide. I tried to picture myself living somewhere that I could only leave at certain times. Granted they can always leave by boat, but in looking at how restless the ocean was in this area I'm not sure I would want to go out in a small boat to get to land unless it was a dire emergency.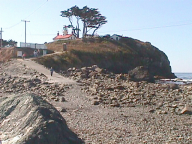 We arranged our time so we could get out to the island at low tide and the current resident was more than happy to give us a tour of the lighthouse. She said she and her husband had lived there for several years and were very happy with their solitude. Later, we came back at high tide to get a picture of the road underwater. We found out that the Battery Point Lighthouse is one of the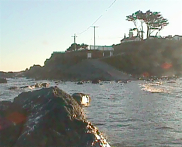 first lighthouses on the California coast. Rugged mountains and unbridged rivers meant that coastal travel was essential for the economic survival of this region. In 1855 Congress appropriated $15,000 for the construction of the light station, which was completed in 1856 by the U.S. Lighthouse Service. Theophilis Magruder was the station's first keeper. Wayne Piland was its last before automation in 1953. At one time the State of California considered tearing down all of the old lighthouses but fortunately the historical societies of the various areas got together and convinced the State that the lighthouses were very much a part of California's history. I believe it is important for future generations to be able to visit sites from the past and be reminded of how hard their ancestors had to fight to give us what we have today. It was really neat to go through what we normally only see at a distance.

Good Luck! Have Fun! and Stay Safe!
Laura