London Bridge
Transported from England
Lake Havasu City, AZ
December 9th, 2000
London Bridge is falling down, falling down, falling down.
London Bridge is falling down, my fair lady.
Or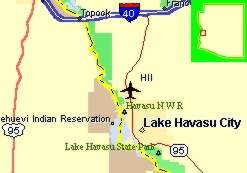 so the nursery rhyme goes. As a young soldier, stationed in England, I spent many a day walking across this landmark within sight of Big Ben. Now we had crossed Arizona to the little town of Lake Havasu to see its famous center of attraction. For 80 years this London Bridge stretched across the Thames River before being dismantled and brought piece by piece to Arizona in 1964. The first recorded record of a bridge across the Thames in what is now London was built by the Romans in 48 AD. There has been a London Bridge ever since. In 1824, the wooden bridge had disintegrated to a dangerous state and Parliament ordered a new bridge constructed of stone.

John Rennie submitted plans which were eventually accepted and the first stone was laid on June 15 1825. In 1902 the bridge was widened to 15 feet. In 1962 it was discovered that the bridge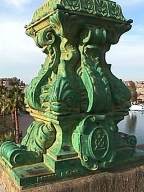 was falling down, sinking into the Thames because it was not adequate for the increase in traffic. Robert McCulloch (of McCulloch Chain Saws) learned that the British Government was putting the bridge up for sale. He submitted the winning bid of $2,460,000. Plans were made to move the bridge to Lake Havasu City, which he founded. Each piece was marked with four numbers. The first indicated which span, the second noted which row of stones, and the last two numbers indicated which position in that row. It was discovered while dismantling the bridge that there were code numbers on each stone when it was originally built. Rennie must have used the same system when the sections left the quarries. The bridge was re-assembled on dry land at the base of a peninsula. When completed, a channel was dredged to allow the lake to flow under the bridge and creating an island. Thirty-tree thousand tons of granite from the dismantled London Bridge, originally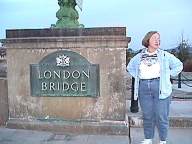 quarried at Aberdeen, Devon and Cornwall, were shipped here. Of this amount 10,000 tons were numbered facing stones, weighing from one-half ton to eight tons each. Bridge reconstruction was completed in one and one-half years with a crew of 40. This unique attraction now offers an English style village, filled with shops and eateries. A carousel boat rental and tour of the lake is available. We pulled into the main parking lot and paid our $3 parking fee before we realized that all other parking lots in the area were free. A nice lady driving a golf cart stopped to offer us a lift to the bridge center, and on the way added a package of gifts and discounts if we would just take a 90 minute tour with her of certain vacation properties. I thought "time share" was a thing of the past? When I explained that we were full timer Rv'ers she drove off. Oh well, was it something I said. The bridge itself is a marvel to see, considering its history, and if an afternoon of shop browsing is in your liking, the trip has something to offer.
*** THE END ***