Longaberger Basket Co.
5563 Raiders Rd.
Frazeyburg, OH 43822
July 09, 2005
While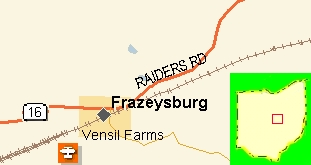 we were staying in Zanesville, OH, we heard about an unusual landmark in nearby Newark that sounded interesting. Where else could you find a seven-story basket that holds 500 people? Well, off we went in search of "a story" and as we approached there was certainly no question what they were referring to. We were still miles away and there it was: a huge apple basket (building), that included a bumper crop of four-foot high apples. The factory building itself was located in a large complex that included: the factory, shops, restaurants, and the Longaberger Family home. We found out that you could take a tour of the factory and watch the workers create the beautiful baskets that the Longaberger family has created for decades. We decided we would start out with the tour of the factory. We could have opted to make a basket, but traveling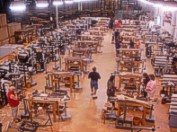 in an RV storage space is very limited, so off we went to see the factory. The tour was conducted from a walkway that overlooked everything. It was interesting watching the employees whip out the baskets. I'm sure it comes from many years of doing this. We learned that the founder, Dave Longaberger, was told that his concept for a company "Couldn't be done". Well many years, many baskets, and thousands of employees later he proved that it was possible to be good to your employees and still have a product that would be coveted by collectors all over the world.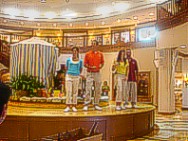 Then we went off to the Longaberger Homestead. This housed a number of shops and restaurants. Included in all this was a musical show given by some very talented young people. We also watched a cooking demonstration given in their household sales department. One of the things we learned about the Longaberger baskets is the fact that every year they put out a particular basket that is numbered. In doing this they created a demand from collectors. Also, if you buy one of their baskets and there is a problem with it you can return it by mail and they will restore it for you. While you can purchase baskets when you are here, the majority of the baskets are sold by Independent Home Consultants (similar to Mary Kay). Today Longaberger has over 70,000 Independent Consultants. We learned that the Longaberger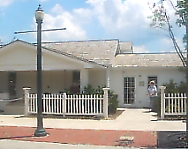 Company was listed among Forbes magazine's top privately held companies, and has been listed as one of the Top 10 most generous companies to its employees.
Next, we went off to the Longaberger Family Home. This was a replica of the family home where the founder Dave grew up with his 11 siblings. Then it was off to J.W's workshop. They recreated the workshop of J.W. Longaberger (father of company founder Dave Longaberger). It was fascinating to see the tools that he used when he made the original baskets. Although they now make baskets using newer tools the results are pretty much the same. Good quality. It was obvious watching the workers in the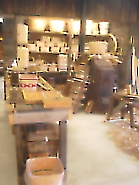 factory the pride they took in their work. Also, in the workshop (during certain times) it is possible to get your basket (purchased at the store) signed by a family member of the Longaberger family.
Ladies if shopping and touring isn't your husband's thing send him off for a round of golf at the Longaberger Golf Club. The Golf Club was a fulfillment of Longaberger's commitment to "stimulate a better quality of life" for its guests, employees, Independent Home Consultants and the community.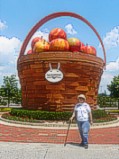 If you have the time drive over to Dresden, Ohio. Dresden is a quaint little town that was the birthplace of Dave Longaberger. The town celebrates its basket-making heritage and proud traditions, that took root there in 1896. There are lots of shops and restaurants here as well as several quaint bed and breakfast to stay in. I understand they have a shuttle from Dresden to the Longaberger complex if you want to stay.
If you want to learn more about Longaberger go to their website at: http://www.longaberger.com. Or check out Dresden at: http://www.BasketVillageUSA.com. If you intend to visit be sure and check out their website first as they have a number of activities throughout the year.
Good Luck! Have Fun! and Stay Safe!
Laura