Lynden Pioneer Museum
217 W. Front St.
Lynden WA
September 16th, 2000
While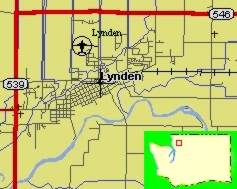 we were staying in Anacortes, Washington (about 35 miles south of Bellingham) we decided to look around and see what there was to visit. We drove up to Bellingham and stopped at their visitors' center. The lady there suggested we might run up to Lynden Washington (about 15 miles north). She said that it was a quaint town that looked like a little Dutch village and that they had a museum there called the Lynden Pioneer Museum that was one of Washington's best kept secrets. Well, we got to the town and everything she said about it was true. As we entered onto Front Street there was a restaurant (and RV park) that had a huge windmill on the front of it. As we drove down the street most of the shops were small individual shops with a Dutch flavor. At Front and Third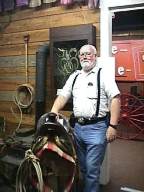 Streets we saw what looked like a small storefront shop with the name Lynden Pioneer Museum on the front of it. I was a little disappointed after driving all this way. Well, believe me, the front of the Museum hides a huge area inside that was done very well. Unfortunately, we arrived about 30 minutes before closing time and had to go through rather quickly. But even so we were able to take in the majority of their exhibits. As you first enter, you are directed by a volunteer into the "Bountiful Harvest" gallery. The lady was so cute as she directed our attention to a large ceramic Cow standing in the midst of a number of farm items. She told us that it was a mess because they were finally building "Old Bossie" a barn of her own, after 4 years. Across from Bossie was an exhibit of farm equipment. N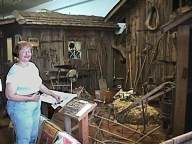 ext to that was a very well done front of a farm house along with items that would have been used by the lady of the house at the beginning of the century. (Ah that would be the 20th century). Across from the farm house were cases with a variety of items that were donated to the museum. One caught my eye. It had a jar that said "Colonel Jim's Ashes". At first sight I was a bit shocked to see a person's ashes in a museum. After reading the sign more carefully I found out that they were ashes from the Mt. St. Helen's eruption May 18, 1980. Colonel Jim was a volunteer at the museum who donated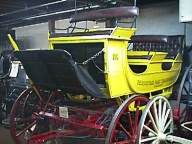 the ashes to them. Cute, huh? We wandered towards the back and down the stairs to a whole new area. The first room we went into contained a large collection of horse-carriages. One of them was a carriage that was used in the Yellowstone National Park for transporting their guests. In the next room was a group of large farm equipment. At the entrance to that room was a VCR with a tape running that was describing the inception of the Burma Shave signs. I remember as a small child looking forward to seeing the Burma Shave signs next to the roadway as we traveled. In the next room they had a number of cars from various years. Two of them appeared to be experimental cars that had been created by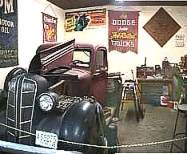 college students. Among the cars that we recognized was an Edsel, and several other Ford models, ranging from a Model T to a Pinto. It makes me feel old when I see cars that came out during my lifetime featured in a museum. Oh well, guess it says something for longevity, eh? From there we went back upstairs and visited several rooms that were dedicated to items from the Military. There were a number of uniforms, and something that intrigued Bob were the rationing coupons that were issued during WWII. Those are something that the kids today have never seen. During the war certain items were limited by the Federal Government and they allowed private citizens to buy only so much. You were given ration coupons for those items and when they ran out you had to wait until the next coupons were issued to you.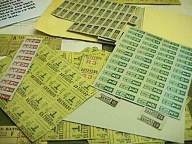 Some of the rationed items that I remember my parents talking about were Gasoline and Sugar. Today we can pretty well buy whatever we want, providing we have the money or credit to get them. After the military rooms we went into what they call the Boardwalk. The Boardwalk was located between store fronts on both sides and on a second level above all. The Museum brochure advised that these were life-size replicas of Lynden's Historic Downtown businesses in the 1900s. At the back of these was the Town Square/Stage. They often rented out the Town Square for gatherings of all sorts. We finally made our exit through their gift shop, which featured the usual "touristy" items. I was very pleased with the Museum and really wished we could have spent more time.
For more information about the Museum check out:
http://www.lyndenpioneermuseum.com
Good Luck! Have Fun! and Stay Safe!
Laura