Historic Mackinac Island
Lake Huron
Michigan
June 5, 2000
During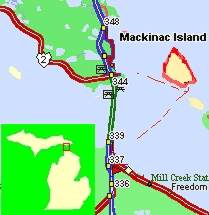 our stay at Mackinaw City, Michigan, we were told by many people that we just couldn't miss seeing Mackinac Island. Since everyone was pronouncing Mackinac Island Mackinaw we were kind of confused, but we found an article in a magazine that cleared it up for us. It seems that when the French arrived in the area the ending was heard and pronounced as "aw", but in their spelling became the "ac". Mackinaw City is the only one in the area that is spelled the way it sounds.
The only way to get onto the Mackinac Island is by ferry or by personal boat. There are several different ferry lines to the Island but all of the ones from Mackinaw City charge the same rates, so it's just a matter of personal preference which one you take. We chose to take our bikes on the ferry with us, since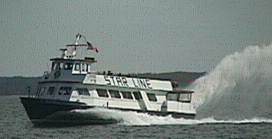 there is no motorized transportation allowed on the Island. The one exception to this are the many golf carts we saw traversing the beautiful links on the hillsides (wouldn't want those poor golfers to have to walk, eh?). The trip to the Island takes about 18-20 minutes on the ferry boats. Some of the boats are jet powered and shoot out a beautiful stream of water as they go. The trip out was a lot of fun and allowed us

to see the whole of the Island as we approached it. As you get closer to the Island you will see two large white buildings at either end. We found out that the one to our left is the well known Grand Hotel, while the one to the right is Fort Mackinac.
As we got off of the ferry we made our way around the various tourists, bicyclists, and horse-drawn vehicles to the tourist center. It was there we were able to pick up brochures about the various activities and things to see on the Island.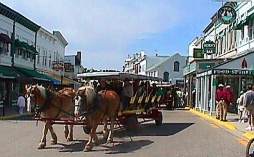 There are several ways to see the Island. Since we brought our own bikes with us, we opted for bikes for the most part. However, you can rent bikes, take a tour carriage just around town and the historic sites, rent horses from the livery stable near the Grand Hotel, or you can rent a horse and buggy and drive yourself around the Island. And, of course, you can always walk around and see most of the sights in town.
One thing you can't miss is Fort Mackinac. We did go there, but Bob tells that story on Fort Mackinac.