The Sweetest Story Ever Told
The New England Maple Syrup Museum
Pittsford, VT.
August 28th, 1999

One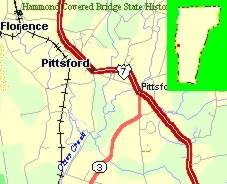 can hardly pass through New England, much less the State of Vermont, without exploring the sweetest story ever told. The oldest and best known topping for everything from pancakes to French toast. We found it at The New England Maple Museum. Although I am not one for sugar products as a whole, I confess I have a sincere fondness for maple candy or maple sugar as it is called. The idea of exploring the production of this confectionery delight thrilled me, as the scant advertisement available indicated a tasting room was available. We were delighted to spend the afternoon with Joyce Meade who acted as our tour guide. She explained that the museum was created some 22 years ago and was now owned privately by the Olsons of Rutland. Most of the items found within, were acquired from surrounding farms and had been at one time actually used in the production of maple syrup.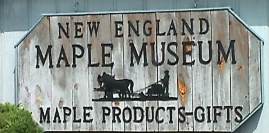 The museum is made up of several medium size rooms that are packed with all sorts of items relating to that sweet delicious substance. The museum is multi-media with sound, action and a video surrounding the working evaporator system operating in the middle. The opening act, if I might describe it in such terms, was the old-timer sitting on a ladder. A push of a button sent him into an amusing and informative monologue about the time and place. Joyce explained in detail the suspected beginning of the product right through the present day production methods. The actual conversion of sap to syrup is a simple but delicate boiling of the sap until it thickens and turns into syrup which if boiled long enough and stirred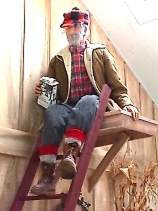 continuously then allowed to cool, will turn into what I call Maple candy or sugar. Although it is not difficult, it must be watched continuously to keep it from burning. There is an Iroquois legend which recounts that while Woksis was away hunting, his squaw was preparing dinner from what she believed to be rain water, conveniently gathered beneath the broken limb of a maple tree. Woksis scented the sweet aroma from afar and knew something especially good was cooking. The water had turned into a thick syrup which sweetened their meal with a delightful maple flavor. Notwithstanding this tale, the Indians of the Northeast were well established in the syrup business long before the first ships from Europe arrived. In the spring, the Indians would leave their villages for weeks and set up sugaring camps in the woods. They would gash the trees with their tomahawks and let the sap run down a wood chip or reed into a wood or bark container. Sap was gathered in bark pails and stored in moosehide tanks. Before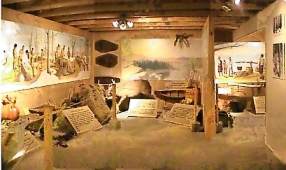 1700, stored sap was boiled in hollowed out logs that could not be placed on an open fire. Heat was created by dropping red-hot stones into the vessel until the sap boiled into syrup. After a cold night the ice that formed on the stored sap would be thrown away since it contained very little sugar. Continuous boiling concentrated the sugar and produced thick syrup which the children liked to scoop out and eat with snow. As the syrup cooled and started to crystallize, the stronger braves stirred and paddled it into "Indian Sugar" which was stored in birch Mokuks. Each Mokuk contained from 20 to 30 lbs. of granulated maple sugar. In one year it was said an Ojibwa tribe, numbering only 1500 made almost 90 tons of sugar. They traded some of this but consumed most of it themselves as a substitute for salt.