The Mariners' Museum
100 Museum Dr.
Newport News, VA 23606
October 23, 2001
While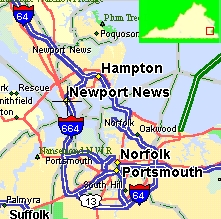 staying in one of our most favorite campgrounds in Newport News, Virginia, (the Newport News Park Campground) we heard about a great marine museum nearby and decided to run down and check it out. The Mariners' Museum was really great. They had a number of different galleries, one of which was the Age of Exploration. This area chronicled the scientific and technological changes in shipbuilding, ocean navigation, and cartography that made the explorations of the fifteenth through eighteenth centuries possible. They feature such items as: a reproduction of Martin Behaim's terrestrial globe and a model of the Nina from the 1400s; map, America, 1588; rare books used or written by early explorers' navigational instruments; and short videos on all of these subjects. Another area was the Chesapeake Bay Gallery. This area featured a microcosm of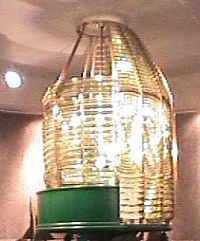 maritime activity. They had a Cap Charles Lighthouse lens, a Native American dugout canoe (circa 1630); a Chesapeake Bay deadrise workboat; and the working steam engine from the tug Thomas Cunninghham Sr (1895), which operated twice each hour. Next we visited the Defending the Sea Gallery. Here they exhibited boats from the frigate to the nuclear-power submarine. This exhibition reveals the U.S. Navy's important role in the commercial and diplomatic history of the nation and world peace. We were able to view replicas of the turret of the USS Monitor, as well as an aircraft-carrier flight deck and a ready room from World War II. There were also original fittings, helm, and bunks from the USS Narwhal; and a German Enigma machine. In the Collections Gallery they feature various exhibitions of rare, unusual, and interesting artifacts from the Mariners' collection of more than 35,000 items. This gallery allows the Museum to feature some of its most rare and unusual artifacts. From a Venetian gondola owned by Robert Browning to scale models of North American Indian canoes made by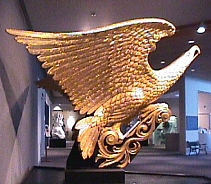 Edwin Tappen Adney, this gallery features artifacts with unique stories. The next area we visited was the Great Hall of Steam. This room relates the story of the oceangoing commercial steamship through ship models, paintings, and murals. There were a number of very lovely figureheads as well as the USS Hartford billethead and trailboard. The William Francis Gibbs: Naval Architect Gallery chronicled the life and career of Gibbs, who designed more than 6,000 naval and commercial vessels including WWII Liberty ships and the superliner SS United States. Included in this exhibit are memorabilia from the SS United State; a ship model of the SS United States; ship's bell (circa 1923) from the SS Leviathan; a model fireboat Fire Fighter (1938-present); and a model of a horse-drawn steam fire engine (1904). In addition to all of this they had an extensive small craft collection. This collection reflects the international scope of the Museum. More than forty vessels from five continents are displayed, including lifesaving boats from England and canoes from Africa. There was also a Portuguese kelp boat and an English lifeboat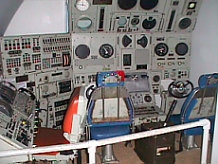 from about 1873. There is also the Crabtree collection of Miniature Ships. This featured sixteen miniature vessels by artist-carver August E. Crabtree that document the evolution of the sailing ship. A number of these ships were carved from unusual woods such as pear, laurel, and white thorn. After viewing the inside we went outside into the courtyard and were able to see a part of a ship that they had brought up from the ocean's floor and were in the process of refurbishing. In addition, in the courtyard, there was a replica of a small fishing village that was in the process of being built. Since Bob and I both love the sea and anything to do with ships, we spent several hours here just perusing the various galleries. This was a museum that I definitely would recommend for anyone coming to the area and having any interest at all in the history of seafaring men and the ships they sailed in.
If you'd like to check out their website for exact location, hours, etc., just stop in at: http://www.mariner.org.
Good Luck! Have Fun! and Stay Safe!
Laura
HOME PAGE