Memphis
Home of Graceland, "the Blues" and Mud Island River Park
Memphis, Tennessee
April 21, 2002
We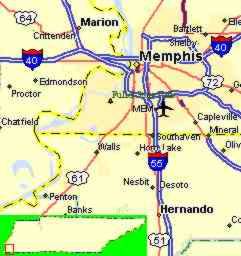 really enjoyed our time in Memphis, TN. This highly active town sits on the Mississippi River. It is famous for its music and the music industry which started here. It was the home and final resting place of none other then Elvis Presley. Memphis became famous for blending the sounds of old time country music from Nashville, with the classic sounds of New Orleans Jazz. The product of which made Elvis what he was, became the blues. A walk down Beale Street brings into focus all the rhythm and blues as bar after bar after restaurant allows its live bands to blast their sounds out onto the street. The food is hot and spicy. Red beans and rice, alligator gumbo, BBQ ribs and chicken. The bar that we chose to eat in featured a band that played a cross between the blues and popular music from the 50s and 60s. One of the band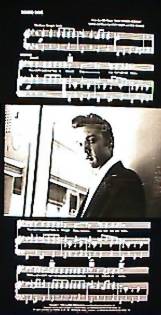 members was in the Memphis area when Elvis was a big name in the entertainment field. Because he played with a band he would often be one of the group that "hung out" with The King. As a result he was able to tell "war stories" about things that Elvis did. It was very interesting to hear stories about Elvis told by someone who was actually there. Graceland, Elvis Presley's residence is a high production tourist site, The building is spectacular but then when money is not an object you can create just about anything. Parking is across the street and access is through a small shopping center which provides, at a substantial price, anything Elvis from autographed prints, to copies of films. The entry price is stiff, $25 for adults, but the crowds didn't seem to take notice. I decided that I just couldn't leave Memphis without seeing Graceland. So, we pulled into the parking lot just before closing time and walked across the street and looked at the gorgeous
mansion. That was enough. I wasn't really interested in the tour through the mansion, just wanted to say I had, at least, seen it. Another one of a kind exhibit was the Romanov collection. The Romanovs ruled Russia as the royal family for some 300 years ending with the assignation of Czar Nicholas and the murder of his entire family excluding his daughter Anastasia. This included some of the fabulous Faberge eggs, a series of crafted gifts to the Royal family over a series of years. These masterpieces are designed in gold and encrusted in precious jewels. The craftmenship is superb. The collection, which normally is housed in the State Kremlin Museum in Moscow,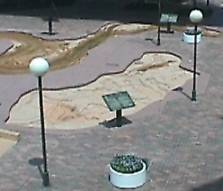 is now on tour through the US. Unfortunately for us they did not allow pictures to be taken in the museum. One of the most interesting things we saw was the Mud Island River Park. It is located in the middle of the Mississippi directly across from downtown Memphis. Now a private operation, it was once a city park. This well designed attraction is accessed by a monorail train which zips under huge concrete stanchions that hold a giant single rail from which the monorail is suspended. There are many things to do on the
Island. At one end of the park is the famous Memphis Bell. This is the B-17 World War II bomber characterized in the Warner Brothers film by the same name. One of the tail gunners who flew on the plane was on hand to discuss life on the front line during the War. Through the center of the park, winding its full length is a model of the Mississippi River. Each twist and turn is reproduced with respective cities mapped out along the way. Access rivers are represented by high walls over which water flows into the main stream. We walked from the Ohio near its source in Pennsylvania down through the states and other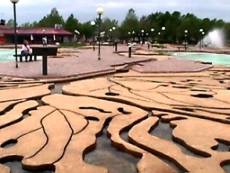 contributing rivers until we reached the delta at New Orleans which in this case dumped into a large swimming pool. There was also a static museum depicting life on the Mississippi over the years. From the old river boats to the music, to war. We walked through a time-line-type series of display, often accompanied by clever sound effects as cannons fired and soldiers shouted out commands. The town also offers a series of old mansions available to be toured but unfortunately our time and energy ran out before the numerous sites did. They also have a large beautiful garden, called the Memphis Botanic Garden, which is well worth the time and energy expended to view it.