Smoke Jumpers Center
Missoula, Montana.
June 27, 1998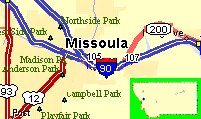 If ever you find yourself traveling Interstate 90 in western Montana, be sure to stop by Missoula. A delightful mountain community of around 30,000 with a lot to see. The Clark Fork River runs through the center of this quaint and friendly town. In the East, the roads rises to beautiful homes with panoramic views of the city below. To the south lays Fort Missoula, with it's museum and historical transplants, such as the old steam engine pulling logs, and the train station brought from Drummond.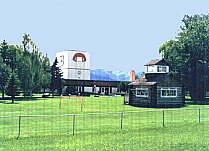 However it was in the East, along US-93 (Reserve St.) that we found the most interesting story. Sitting some ways back from the road, with it's white tower shining with a large parachute emblem, is the U. S. Department of Forestry's Smoke Jumpers Center. This is the first Smoke Jumpers center, created in 1954 as a training, research, and dispatch center for those adventurous daredevils who jump out of airplanes, with intentions of extinguishing out of control forest fires in
inaccessible valleys and mountain tops. It comes complete with a visitors center, where we met the delightful Kelly Elliott, a college student majoring in deaf education, who is holding a summer job. Kelly would be our host for the next hour as she took us through the training rooms and work shops, explaining in detail each part of the entire operation. When first entering the center, one cannot help but stop to look at the bronze statue of three smoke jumpers, which sits on the counter top of the receptionist. Kelly, who's father is a fire fighter, explained that the firefighter looking up is a representation of Firefighter Donald Mackie, a Missoula trained Smoke Jumper who, along with two others, died while fighting the Storm King Fire outside Glenwood, Colorado, in 1994. A full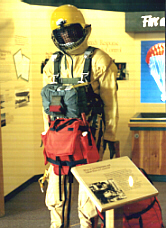 size representation stands in Glenwood in honor of them. The remainder of the center is taken up with information boards, displays and a video about forest fires, and smoke jumpers. In the middle of the room is a fully dressed mannequin, ready to jump. Soon Kelly took us to the "loft" where the actual work is done. We stopped in the sewing room, as Kelly explained that all the bags and clothing that goes into making a successful jump, excluding the parachute itself, is manufactured by the smoke jumpers themselves. We then went to the chute packing room and saw how the chutes are actually put into the chute bags. Not all of the 70 or so jumpers stationed at the center, are certified packers, which is required to assemble a chute. The chutes come in three different sizes to complement the various weights of the jumpers. Holes in the chutes are repaired with lock-stitch nylon, in the sewing room, by the jumpers themselves.