Fort Condé
150 South Royal St.
Mobile Al.
February 5th, 1998
Mobile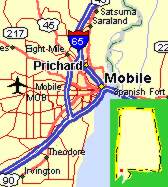 has a delightful treasure right in the middle of town near the water's edge. Their unique Visitor Welcome Center is located in the reconstructed 1700's French Fort Condé. This masterful piece of architecture, built by the French around 1730 stood as headquarters of the colonial governments; French, British and then Spanish. The Americans seized it in 1813 but sold it at public auction in 1820. It was reactivated briefly during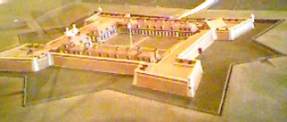 the Civil War to defend Mobile Bay and is reportedly the last Confederate fort to be surrendered. The City of Mobile partially reconstructed the fort with local funds during the American Revolution bicentennial. This is one of the

easiest places to get around, with the wide ramps for the guns now available to the handicapped. There are a few old cannons in place along the top battlements. From here you can get a view of the shipping that is going on in Mobile Bay. The quarters which are located inside the wide walls have been turned into an excellent museum reflecting life as it would have been under French occupation.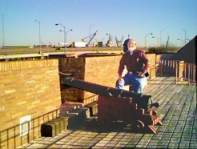 The inner rooms in one area are connected making the walk, which sometimes requires stooping down to pass through connecting hallways, interesting as each progressive display relates to the last. The Reconstruction is not large and can be seen in an hour or two. There is ample parking across the street and the whole downtown area is before you. . .