The Unsinkable Molly Brown
Hannibal, Missouri
April 02, 2000
Many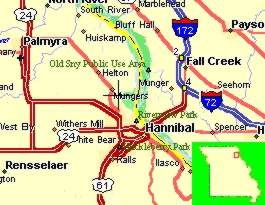 years ago I remembered seeing "The Unsinkable Molly Brown" in the theater. (1960) It had a measurable effect on me, in that it showed me a lady who was resilient and able to withstand public rejection, no matter what. My favorite phrase out of the movie (of hers) was: "I ain't down 'til I say I'm down, and I ain't never gonna say I'm down." Due to a lot of ups and downs in my personal life this became a beacon to me in a lot of tough times. So, when we got near Hannibal Missouri and Bob said that he wanted to see the boyhood home of Mark Twain, I said "yes" very quickly because I wanted to see the birthplace of Margaret Tobin-Brown.
In looking at her birthplace and reading the "actual" life of Margaret Brown (who by the way had never been known as Molly in her lifetime) I realized that a great deal of what I had heard was manufactured by the news media of her day. Unfortunately in the late 1800's they didn't have excellent "news" manufacturers (ah media) like the Star, the Globe, etc. So the "regular" newspapers and the paperback publications had to create the excitement for people. Margaret Brown not unlike Belle Starr of an earlier era, became a source of stories for the writers looking for a way to sell information to the public. However, the greatest source of misinformation seems to be the writer of the musical and later movie called "The Unsinkable Molly Brown." It was he who dubbed her Molly (a nickname by the way that Margaret wanted to be called in her lifetime instead of Maggie.)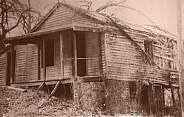 When we look at Margaret's early beginnings we see a small house in Hannibal Missouri that her parents had. Her parents had emigrated from Ireland and were what were termed "shanty Irish." Each had one child apiece when they married, and ended up having three more. Margaret, like many of us, looked around and decided that there had to be more to life than what she saw in Hannibal and started looking for a way to improve her lot in life.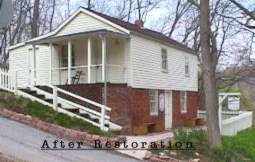 When Margaret's brother, Daniel, left Hannibal for Leadville Colorado, she saw an opportunity to better herself and followed shortly. While in Leadville she met and married a man by the name of James J. Brown, who was the manager of a nearby Silver Mine. They moved to Stumptown which was closer to the mines. Sometime later Jim (who was known as Johnny in the musical and movie) was instrumental in discovering gold in one of the mines after the silver panic of 1893. As a result of this, the owners of the mine gave him a

1/8 partnership. When this happened they moved from Leadville to a brownstone-with-granite-trim house in Denver with their two children, Lawrence and Helen. Later they bought a house called "the house of lions". After they arrived in Denver Margaret set about trying to enter the society of the "sacred 36". The cream of Denver society. It's funny when you look back on it now, and think "nothing like that could happen today." But even today we have our cliques in society that shun "outsiders". I saw this in a small town in the mid-west that refused to employ someone because they were not third generation residents.