The "Life on Wheels" Conference

University of Idaho

Moscow Idaho

July 13th, - 17th, 1998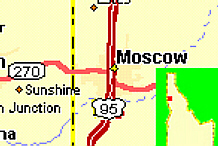 For all of you who have been diligently following us through our trials and tribulations as we progress in knowledge and distance across this great country, you can surely remember the heart breaking article posted in the EVENT directory entitled "A rollover in Texas". Fortunately for both of us, we walked away without a physical scratch. My patient wife hand carried my battered psyche for the next two weeks as she salvaged what she could from the disaster. An overall theme that kept running through my head was that I should have been able to prevent it. Although having long ago forgiven myself for whatever unspeakable thing I did to cause this event, I still think that, if I had had known more about driving a 30 ft. 5th wheel trailer, I might have kept it upright thus making it salvageable. So in June, as we were preparing to head out again with our new trailer, Laura came up with the idea of attending the "Life on Wheels", convention in Moscow Idaho, some 2000 miles away. I was interested. When she added that we might want to take the pre-convention driving course offered by "The RV Driving School" of Ontario Ca., I was sold. We sent in our request and shortly received our packet, with course description booklet and a registration form which resembled a college registration form. For the next several days we sat around discussing who was going to take what. And did we want to stay together, or should we take separate courses thus covering far more material? In a while we had made all our selections that saw us in different classes most of time. We mailed it off with our tuition, not giving it too much more thought. About a month later, on July 6, we were parked in the only RV park in Moscow that was an Exxon station on Route 95, just outside town. Not much ambiance, but run by some of the most helpful and friendly people you would ever want to meet.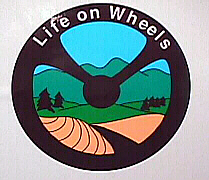 We arrived the next morning in a parking lot on the west side of the University of Idaho campus. Within a short period of time there were 9 rigs lined up side by side. We migrated to a spot between two of the rigs and began learning who everyone was. Richard (Dick) Reed, the owner and creator of the "The RV Driving School", soon joined us and we went to the registration tent and filled out the required papers that included information about ourselves, our rigs, along with license and insurance information. After a description of what was about to happen, Dick and his four assistants inspected the rigs, which included specific attention to mirrors. Those rigs with insufficient mirrors were lent a proper set with options to buy them later. Then, putting the less experienced driver, of the driving teams, behind the wheel (usually the female), started us, driving in one of two concentric circles, marked out by traffic cones.

The motorhomes were on the outside going one way and the 5th wheels were on the inside going the other way. After driving many revolutions Laura started asking where the Indians were, since we were circling the wagons. The speed was very slow, under 5 mph and often an instructor would step very close to the path of the vehicle to force an ever increasing accuracy as we attempted to come as close to the inside cones as possible without actually hitting them. After a while an instructor signaled us to change drivers. Later we were signaled to form up into a single line after which the 5th wheels went to the center and the motor homes went to the outside. This gave ample time for every driver to experience the use of the large 6 inch convex mirrors either supplied with the borrowed mirror sets, or that which they already had. Before we finished each of us could rub the side of a cone without disturbing it's balance. One of the secrets of a successful turn is knowing exactly where the wheels of the trailer will go. The large convex mirrors allowed us to see the wheels making it much easier to determine that. Having practice turning, while watching the location of the wheels in both right and left turns, it was time to take on an instructor as a passenger and drive off into the back streets of Moscow and through the campus. Before leaving the parking lot, Jerry, our instructor, performed a most interesting exercise. He had Laura turn the wheels of the truck as far right as possible then stood only 3 feet from the front of the truck and told her to move the truck. She politely waited for him to get out of the way. Soon it was evident that he was not going to move. As she crept forward it became obvious that the truck was not going to hit him after all. This was hands on proof of just how close the front of the truck can come to an object and still turn away from it. A point that became more and more valuable as we progressed.