The Moss Mansion

Billings, Montana

June 21st, 1998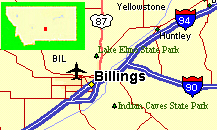 The continental divide is an imaginary line that separates the eastern half of North America from the Western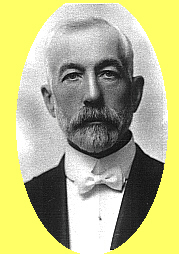 half. It passes through many places. One of them is Billings Montana. Founded in 1882, seven years before Montana became a state, Billings represented the spirit of the old West while embracing the changes of the new era. Into this climate came Preston Boyd Moss, determined to open a bank. He did just that, and then, founded a newspaper, and created a central heating plant known as the Billings Utility Company. His accomplishments in industry and trade would go on for many years, making him one of the wealthiest men in Montana. He and his wife Mattie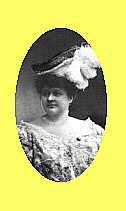 (Martha), would have six children, with five of them reaching maturity. Of the two surviving girls, Melville would live in the house, past her parents. Mattie's parents, George and Iantha Woodson also lived with the Moss family. Most of the founding fathers built their homes on the south side of the railroad tracks. As the town grew and businesses thrived, businessmen moved into the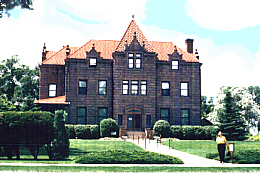 area known as the West Side Addition, following P. B. Moss, and his wife Mattie (Martha), who, in 1901, commissioned the famed architect, Henry Janeway Hardenbergh, to design their home, which was to be built by a local contractor between 1901 and 1903. The Moss Mansion is approximately 60 feet square and 45 feet high, sitting a hundred or so feet back from the street. The interior designer, W.P. Nelson Company of Chicago spent eleven months decorating the home. Mattie would spend many more years furnishing it. Many of the oil paintings throughout the house are by Mattie. In it's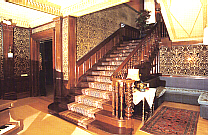 completion, the house cost more than one hundred thousand dollars in an era when a normal house was built for three thousand dollars. The house now stands as a symbol of the changing refinement of the West, and was the subject of a recent episode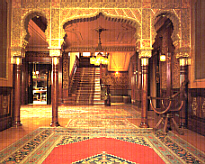 of the "American Castles" television We had made arrangements to meet our interpreter, Kandice Zemar, an Exxon oil intern, working part time for the Billings Preservation Society, who manage the Mansion. For the next hour she explained the details of this marvelous architecture, and the personalities that shaped it. The Mansion is somewhat unusual in that there are a multitude of styles and themes running through it. The entranceway is spectacular, with a Moorish hall displaying a Saracenic arch created from the Alhambra in Granada, Spain. The three Moorish horseshoe arches rest on four mahogany columns.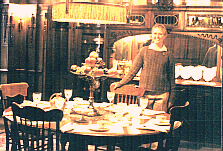 We were taken through the main hall, which was used as a music room, to the dining room where I snapped a picture of Kandice. This room is done lavishly in wood from ceiling to floor which is covered with an Indian rug. A china cabinet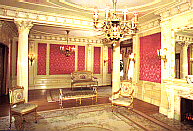 and sideboard take up the entire west wall.
In contrast to these themes, are the two attached parlors, separated by two Corinthian columns. These spectacular rooms are created in Louis XVI style with nothing spared. The wall panels are of rose colored woven damask silk, the ceiling is of hand painted frescoes depicting fields of flowers.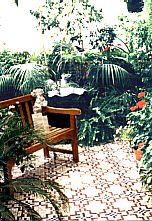 The rug was made in Aubusson France and was woven from designs submitted by Mattie.
Off from both the family room and the dining room is a 15 by 25 foot conservatory which is heated with hot water. The conservatory floor is a mosaic tile. The family maintained a large assortment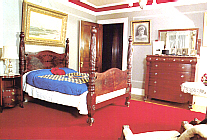 of flowers and other plants. Some of the plants on display today, are the original plants that were started by Mrs. Moss. The center room of the second floor was intended as billiard room, though no table was ever put in place.
Off this room were the many bedrooms for the children, along with the apartment designed for Mattie's parents. A third floor contained rooms for the three servants that attended the family. In reviewing the house, one must take notice of the surrounding lawns and gardens blooming with an assortment of fragrant and colorful flowers. All in all, a very enjoyable afternoon.