Mt. Hope Pet Cemetery
Mt. Hope Rd.
Miamitown, Ohio
May 19, 2000
This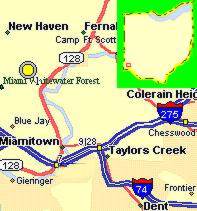 story may seem strange, so I'll have to give you some background on why I did it. We took our trailer to Southwest RV Repair who came highly recommended by a couple of friends. When we dropped it off we had several hours to kill so we decided to go to nearby Miami Whitewater Park and have a picnic. On the way we passed a place I hadn't seen or thought of since I was a young girl (oh about 40-45 years ago). It is Mt. Hope Pet Cemetery. As far as I know it was started by a friend of my father's, Doc. Agan. Doc was a veterinarian who had to be in his 80's when I first met him. Unfortunately the meeting was not a pleasant one. When I was a pre-teen my beloved Fox Terrier, Jocko, had been hit by a car and he was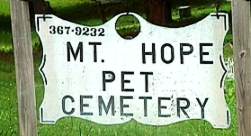 badly injured. I can remember hoping all the way out to Doc's that he could make him "all better". It wasn't too be. Doc told me that if he operated the injuries would reopen soon and that he would be in constant pain. He suggested that I have him "put to sleep" as they referred to it back then. My dad offered to hold him, but I said "No" that I wanted to be with him. So, I made the first of a number of difficult decisions in my life. After he was dead Doc told me that he would bury him in the nearby cemetery for me. Well, as we passed the cemetery I couldn't resist stopping by to show Bob the cemetery and say "Hi" to my old friend.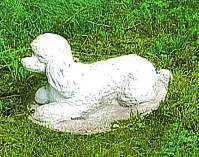 At first, when I told Bob I wanted to do a story about it he thought it would be kind of morbid, but the more he thought about it the more he thought that people might be interested in hearing about it. What we try to do when we write a story is to show people things that they might not get to see when they pass through an area, also, we try to write
about things that would interest them. In our travels we have found that most RV'ers tend to be animal people. Most have either dogs or cats and some birds that travel with them as their constant companions.
As I walked through the cemetery I thought to myself "why would people go to this much trouble just for an animal?" Somehow the answer came to me that animals are the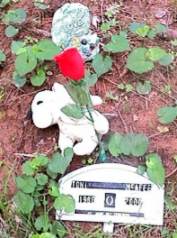 only things in our life that give totally unconditional love. We can abuse them or ignore them and they still love us. There is nothing else in our lifetime including parents, children or spouses that will ever provide that kind of love. Have you ever seen a dog pout because you petted another dog? Or took one look at us in the morning and said "maybe if you brushed your teeth"? Well, you know what I mean. So why shouldn't people who have lived with and loved these animals all their lives put up a memorial to that devotion. In this pet cemetery, unlike most human, there seemed to be no restrictions to what kind of monument you can place. Some were crudely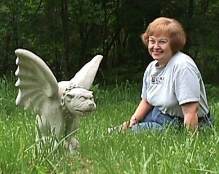 handmade and some were expensively wrought but all were loving. As you might have guessed I am very soppy about animals and have had a number in my lifetime. Right now, unfortunately, with us moving and Bob's restrictions on having only two living things in the trailer, we don't have any pets. However, I did tell Bob that if he ever dies I am going to replace him with a dog. He said he wasn't sure how to take that and we had a good laugh about it.
Anyway, for the animal lovers out there I present this story and hope you appreciate the feelings that come with it.
Good Luck! Have Fun! and Stay Safe!
Laura