Jefferson County Historical Village
and Cedarhurst
Mt. Vernon, Illinois
May 20, 2001
Mt.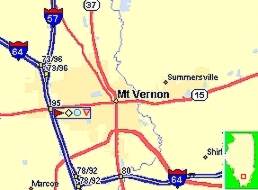 Vernon, Illinois, is your typical small town America. As we drove in I started looking around for a story in this area. After talking to a few people, we were directed to the Jefferson County Historical Village and a place called Cedarhurst. Well, it turned out that they were almost across the street from one another. The Historical Village contains several buildings including: 2 log cabin homes, the first log jail in the county, a one-room school, medical building, newspaper and print shop, blacksmith shop, log church, general store, gift shop and the Carl Schweinfurth Museum and Interpretive Center. There was no charge, and the volunteers encouraged you to stay as long as you'd like. We wandered around the village and found it very well done, with a number of antique tools and implements donated from people in the area. The buildings were all original buildings that were moved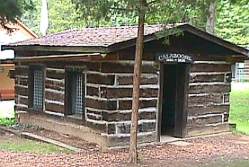 from locations in nearby towns and donated by their owners to the historical society. After our tour of the village we went into the Museum where we were greeted by several of the volunteers who were actually instrumental in creating some of the exhibits there. One such person was William L. Short, who was not only a volunteer at the museum but a gifted landscape artist. His specialty seemed to be barns in various stages of existence. Mr. Short showed us around and explained how they had obtained many of the articles there in the museum. After we had finished our tour he encouraged us to stop over at the Cedarhurst A
rt Center and say "hello" to his wife who worked there. As we entered the Center and asked for Mrs. Short, she smiled and asked if William had talked our arm off? We assured her that he had not, but that we enjoyed our visit with him. We then found out that the Cedarhurst Art Center features classes such as; weaving, basketry, pottery, painting, drawing, stained glass, carving, and photography for the area residents. The day we were there they were just finishing up a class being taught by a watercolor artist by the name of Diane Maxey. We got to see some of the students work as well as some of Diane's. It was obvious that Diane was a good teacher as well as a gifted artist when we saw the finished work of some of the students. We then proceeded to the Mitchell Museum at Cedarhurst. We found out that Cedarhurst is the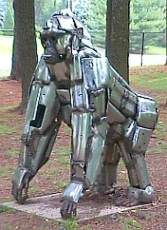 leading cultural institution in southern Illinois. The John R. and Eleanor R. Mitchell Foundation, established by lifelong residents of southern Illinois, has operated Cedarhurst, the Mitchell Museum, and many other arts and nature programs for more than 20 years. The Museum includes an impressive collection of late nineteenth- and early twentieth-century paintings by American artists. Exhibitions from other institutions as well as those created by the professional staff are on display regularly. While we were not allowed to take pictures inside of the museum itself, we were allowed to take pictures of the sculptures in the Sculpture Park which occupied the grounds surrounding the Museum. The outdoor sculpture program includes more than 30 contemporary works by national and regional artists. From a distance the sculptures were interesting, looking something like huge chrome statues. But, as we approached closer we found that a number of the sculptures were actually made out of recycled chrome car bumpers. Unlike the car bumpers of today, the original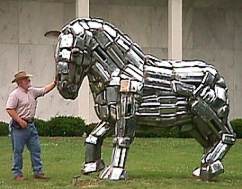 car bumpers were made out of bright, shiny chrome which seemed to keep the car wrapped in a bumper of protection. Today, the bumpers all seem to be color-coordinated with the cars and crumple almost as quickly as the fiberglass fenders they are supposed to protect. It was interesting to wander among the sculptures and see how the various artists had used the bumpers by simply cutting them at the angle they wanted and welding them together. None of the bumpers were twisted or turned in any way. I never cease to marvel at the way some people can turn into art things that others see as junk or garbage. We wandered around the grounds for awhile taking pictures and then wended our way back into town, once again surprised by the ingenuity and beauty we can find in "just a small town."

Good Luck! Have Fun! and Stay Safe!
Laura