Mark Twain's House
351 Farmington Ave.
Hartford, Connecticut
October 3, 2001
Quite often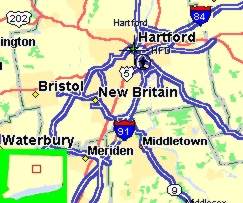 as we travel we find ourselves writing about famous individuals in several locations. Such was the case with the life of Mark Twain. Born, Samuel Clemens, he lived in Hannibal, Missouri, as a young boy. As we passed through Hannibal we took the opportunity to write a story about Mark Twain's boyhood home. Naturally when we found ourselves in Hartford, Connecticut, we couldn't resist following up on Mark Twain's adult life there. Mark Twain's life was much like many famous people you read about. He had a great many financial ups and downs. The house he had built in Hartford is absolutely gorgeous. It is a 19 room, Tiffany decorated mansion where he lived from 1874 to 1891. During Mr. Twain's productive period he created some of his best-loved works, including The Adventures of Tom Sawyer, and Adventures of Huckleberry Finn.
In 1873 Mark Twain, purchased land at, what was then, the western edge of the City of Hartford. He engaged the New York architect, Edward Tuckerman Potter, to design the house. Mrs. Clemens had sketched a layout showing the relationship of the various rooms to views over the then open countryside. The house was completed in 1874, and the Clemens family moved in during September of that year. The cost of the house apparently exceeded their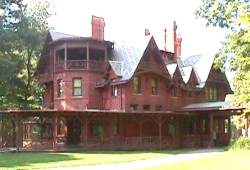 budget, and several of the rooms remained unfinished with regard to wallpaper and other decorations. In 1881, following the success of "The Adventures of Tom Sawyer" and several lecture tours, the kitchen wing was enlarged, and the major rooms completely redecorated by "Associated Artists", a distinguished firm of interior designers, which included Louis Comfort Tiffany.
As you approach the house you can't help but notice the use of different colors on the brick giving the house a very unique styling. In addition to the brickwork the house has very elaborate woodwork which was called the "Stick Style" of the 1870s. The architect provided for living plants both within and outside the house.
According to John Boyer, executive director of the Mark Twain House, there is a common misconception that the house was modeled after a Mississippi River
steamboat to reflect Samuel Clemens' career as a riverboat pilot. "There is no historic evidence that Twain or his architect sought to create that appearance," said Boyer. "The high balconies around the home's third floor might resemble the pilot house of a riverboat, but, in fact, they were installed to take advantage of the sweeping vistas that could be enjoyed from the property." The entrance hall was originally neo-Tudor in style, giving it a completely different character by the decorators in 1881. The paneling was stenciled in silver, the walls and ceiling painted red, and patterned in dark blue. These patterns resemble American Indian textiles, and probably were designed by Tiffany. The fireplace was enriched by carved wood panels from de Forest's workshops in Ahmedabed, India, and, at Mark Twain's suggestion, by red-painted marble covered with pierced brass panels from the same workshop. Interestingly enough Mark Twain took a very active interest in, not only the construction of the house but in the decorating as well. One very beautiful piece of furniture that is in the dining room was one that Mark Twain saw on a trip and had it fitted for an alcove in the room. One piece of original furniture, I found interesting, was the bed that Sam Clemens slept in. If you will notice he switched the bed around so that he was actually facing the headboard. He told people that it was so fancy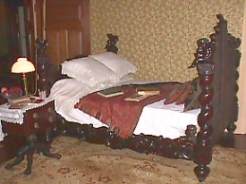 he wanted to look at it, rather than the footboard.
Olivia and Sam Clemens brought up three daughters in the house; Susy, born in 1872, Clara, born in 1874, and Jean, born in 1880. A son, Langdon, was born in 1870, and died in 1872. The girls were educated in the home's second-floor schoolroom, which was originally Twain's study. His daughters' interruptions eventually forced the author to abandon the schoolroom and move his work to the billiard room upstairs. In his third-floor sanctuary, Twain would organize his manuscripts by spreading the pages out on the billiard table. He would then present the new work to Olivia for editing. Twain's success as a writer continued through the 1800s with the publication of The Prince and the Pauper(1881), Life on the Mississippi (1883), Adventures of Huckleberry Finn (1885) and A Connecticut Yankee in King Arthur's Court (1889). Nevertheless, as the decade drew to a close, the author faced financial ruin. Poor personal investments coupled with a succession of bank panics dealt the Clemenses serious financial blows. In 1891, the family left Hartford for Europe, where the cost of living was lower. In 1896, while Twain and the rest of the family were in England, eldest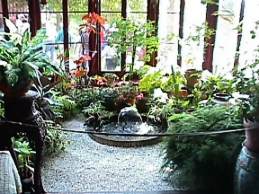 daughter Susy returned to Hartford for a visit. During her stay, she contracted meningitis and died in the family home. After Susy's death, the family never occupied the house again. Twain sold the property in 1903. The house was eventually turned into a boys' school, and, later, an apartment building. Fortunately, in 1919, a group of local citizens recognized the home's historic importance and developed plans to preserve it. However, it would not be until ten years later, that the state-chartered Mark Twain Memorial and Library Commission would purchase the property. To help meet expenses, the Memorial leased the first floor to the Mark Twain Branch of the Hartford Public Library. Twain artifacts and memorabilia were displayed in one room of the library, while apartments continued to be rented on the upper floors, in the servants' wing and carriage house.
In 1955, the mortgage was paid off and the board of trustees began the daunting task of restoring the house. Their goal was to complete the project in time for the home's 100th anniversary in 1974. The effort stimulated donations of important Clemens memorabilia, objects of decorative art and archival materials. The museum's collections now co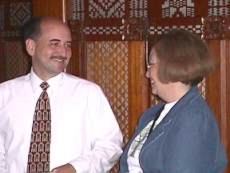 ntain approximately 50,000 artifacts, including Twain's original manuscripts and first editions, historic photographs, family furnishings and Tiffany glass.
Our trip through this grand and glorious house was memorable indeed, made even more so by the wealth of information we received from Mr. David Bush, director of Public Relations/Marketing. He certainly knew his Mark Twain history and was able to pass much of it along to us. It is fascinating to be able to get a glimpse into a world long since past. And to learn more about such a wonderful author as Mark Twain.
This house is definitely on a "must see list" if you get to Hartford, Connecticut. If you'd like more information about their hours or directions, check out their website at: http://www.MarkTwainHouse.org.

Good Luck! Have Fun! and Stay Safe!
Laura