The Denison Pequotsepos Nature Center
109 Pequotsepos Rd.
Mystic, Ct. 06335
October 7, 1999
While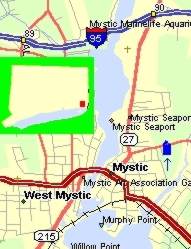 we were visiting Mystic we found a great many things to do. The Marine Museum to visit, boats and harbors to visit, the Aquarium to see, and of course, the obligatory shopping. However, when we found that the pace had become too hectic, we looked for an activity a little more peaceful and in tune with nature. We found the perfect answer in the Denison Nature Center. The Nature Center was established in 1946 and its mission is "To inspire and nurture appreciation of the natural world and foster a personal environmental ethic."
The Nature Center include a wildlife sanctuary, a natural history museum, and gift shop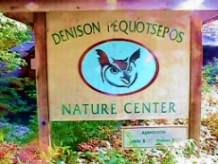 and encompasses over 200 acres of habitats typical of southeastern Connecticut. It also offers over seven miles of trails for hiking, bird watching, botanizing and exploring the sights and sounds of the seasons. It also maintains native wildflower, bird and butterfly gardens.
I don't know about you, but many times when I am in an area I find myself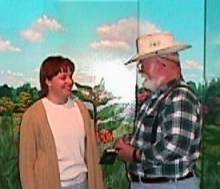 caught up in the "sightseeing thing". Get up, go here, go there, rush, rush, see everything. With the Nature Center it was nice to just kind of relax and get myself more in touch with nature. It's nice to stretch your legs, and walk in a "safe environment". The trails were relatively easy and we saw more wildlife and flora and fauna then we would have, had we walked a much greater distance in the wilds.
Their communications officer Cheryl Kraynak was
gracious enough to show us around, and let us get a peek at a new exhibit they were working on in the Natural History Museum part of the Center. While the Center itself is suitable for all ages, their educational programs are especially geared to the children. Their programs reach over 18,000 children each year. It is important to remember that we have to help the children learn a healthy respect for nature early so that we will all continue to have the beauty that is America.
I was very impressed with the employees of the Center that we met. They were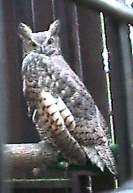 all exceptionally friendly and knowledgeable about a great deal of subjects dealing with nature. Inside the center built into the stairwell was a large tree.
After we looked around the Nature Center museum and store, we proceeded outside where we saw some birds in cages. Many of these birds were injured and brought to the Center. If it is possible they will be released back into the wild. Meantime, they are well taken care of. After we stared at the owls (and they at us <OvO>), we wandered off onto the nature trails. It was amazing the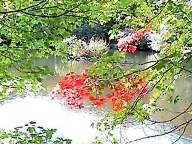 different habitats found there. They had woodland, wetland and meadow. At every turn we came upon a different scene which included different trees, and plants. It was truly lovely and very peaceful when we visited. I found myself refreshed and revitalized.
If you find yourself in Mystic's part of the world, be sure and stop by the Nature Center and recharge your "Nature batteries." It is well worth the time and small fee charged. Their website is: http://www.dpnc.org/
Good Luck! Have Fun! and Stay Safe!
Laura
* * * THE END * * *