New York City
"The Big Apple"
New York, NY
August 19, 2005
The past two years we've had some medical setbacks (hip replacement for me) and we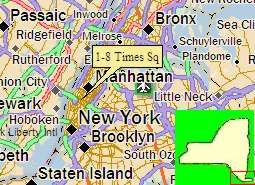 haven't kept current with our stories. However, we are trying to catch them up.
In 2005 as we entered into New York State we happened to be in a path with a place called Florida, NY. We found a campground called Black Bear Campground so we stopped in for a week. We saw a sign advertising tours to New York City (less than 50 miles away). As we get older Bob and I find ourselves avoiding large cities whenever possible, so any time I mentioned New York City he found a plausible excuse to head in the opposite direction. Well this tour sounded ideal for us. It would allow us to see "the Big Apple" without having to fight the traffic. I went down to the office to make reservations for our trip. I found out that the price was $74 per adult, it left at 8AM and returned to the park at 6PM. Although $74 may seem a little high, it was well worth it to us, to avoid all the hassles of NYC. Came the morning of the tour we met our tour guide "Al". Turned out he and his wife were native New Yorkers. It was great having someone with us that really knew the area. We were given a brochure that indicated we would be seeing: Ellis Island, Statue of Liberty, Ground Zero, Wall Street, Empire State Building, Times Square, Fifth Ave, Rockefeller Center. (While I usually try to cover everything in one story, it's only fair to make Ellis Island its own story) The trip to NYC was made in a very comfortable van and the time getting there seemed very short.



Our first look at the NYC skyline, although it was overcast, was impressive. Al first took us to the ferry to go to Ellis Island (fare was included in the tour price). Just getting into NYC was an experience. Al explained to us that NYC had put in a "no horn blowing" ordinance. I can understand why they would need it. Just as New Yorkers are a unique breed of people, their driving is as well. While they have traffic laws just like everywhere else, there are the "understood laws" as well. I probably should have Bob explain this as it seemed a little confusing to me, but here I go. When you come to a traffic light you pull as far into the intersection as possible (don't worry about blocking the other traffic, yet) then, as the light turns yellow, the traffic in front of you moves forward enough so you can squeeze into the space left by them, and (just
barely) open up the traffic flow for the cross traffic. Whew! Glad I wasn't driving. Plus, I think the taxi drivers (of which there were many) seem to have their own rules. Not only was the traffic crazy but trying to figure out the parking signs was very complex. Some of their traffic signs went halfway down the pole.
Anyway, we took the ferry to Ellis Island and did the tour. As I said I'm going to cover this separately. We then went from there to the Statue of Liberty. I have seen this lady in more pictures and videos than I can count, but it doesn't compare with being up close. WOW! Due to 9/11 they no longer allowed people to go up into the upper part of the statue. But just walking around the bas
e and seeing the information about the Statue was awesome.
Next, we went back to the van and off we were to Ground Zero. When we visited in 2005 they let you get a lot closer than you can today (2007). Al let us out with instructions where to meet and at what time. We were able to visit St. Paul's Chapel at Broadway and Fulton Street. It was here that a number of people were ministered to the day of the attack and it also served as a soup kitchen for the people working on the rescue mission in the days that followed. There was an altar inside the church that had memorabilia from the victims' families. We found out from Al that one of his sons
was actually in one of the World Trade Center Buildings and was able to get out safely. Another son ran a ferry that took people away from the smoke and ash and into New Jersey. For all the "brashness and bravado" that New Yorkers like to put on, this man really shared his feelings about his sons and "His City". We then went down to where we could view Ground Zero and the surrounding area. Although we had been at the Oklahoma Bombing site this was almost overwhelming. The notes from people affected by the bombing and just the pride that New Yorkers showed and the "firm resolve" that they would rise from this disaster better and stronger. As I said later, the traffic could really become gridlocked. Well, as Bob and I were walking back to meet everyone at the van I saw something I could hardly believe: two police cars were running Code 3 (red lights and siren) and they needed to get somewhere at the other side of a one way street. Well, they just turned onto the one way street (going the wrong direction) got up onto the sidewalks (one on either side) and drove. People on the sidewalks just stepped aside until they passed. Whew! that was exciting. Back on the van I told Al about the police cars, he just chuckled and said "they do what they have to do".
After years of watching Dick Clark doing the New Year's Celebrations on Times Square, being there definitely was a high point on our tour. Again, Al
dropped us off so we would be able to wander on our own. Wow! we were really there. Just to see all the lights and signs was dazzling not to mention all the people. They had kiosks that sold tickets to the Broadway Shows. We found out that to get a ticket to most any show on Broadway would cost you, at least, $100. Ouch! Guess if you lived there you would get used to it. As people rushed by, you could hear any number of foreign accents as well as various New York accents. Some of the New York accents could be almost as confusing as the foreign accents. It seemed as if everybody was in a hurry to
get somewhere. I found myself walking faster and then thought "where am I going in a hurry?" Guess it was just catching. We stopped for a bite to eat (restaurants were everywhere). When we had finally gotten our fill of the "bright lights of Broadway" we headed back to our van.
Click here to play Times Square Video.
We didn't get a chance to see Central Park but Al gave us instructions on how to get back by subway and bus if we wanted to. The day we were there was slightly overcast and we didn't get a chance to go up in the Empire State Building. We were able to see it from a distance. Al said it was best seen at night when it was all lit up. Then we passed Rockefeller Center and watched people ice skating on the plaza. After this we headed back for the RV park. All in all we had a really great day and got to see things we probably wouldn't have seen otherwise. If you are like us and try to avoid large cities but still want to see NYC, I would highly recommend this park and tour. In addition to going to NYC the campground is within driving distance of West Point. We did that tour on our own and it was really great.
Good Luck! Have Fun! and Stay Safe!
Laura