The Heritage Park of North Iowa
Combining the Holten Farm Museum
with the Timberline Museum
Forest City, IA
June 29th, 2006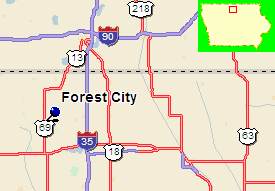 Forest City, Ia. is to Winnebago like Elkhart and Goshen are to many other major manufacturers of recreational vehicles. While passing through the state we had our heat pump go out, so it was a simple decision to head a little north and stop by the factory for the repairs. Having done this, we decided to hang out for a day and take the factory tour. This would set into motion, events that would lead us to another great time and another story we would have otherwise missed. It all started with a "Hi Folks" from a very tall and quiet spoken tour guide.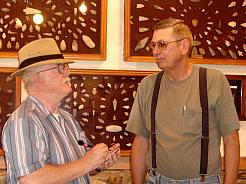 Jim Oulman was to be with us for several hours as we toured the various building which made up the Winnebago plant. Jim had worked many years for Winnebago doing just about everything that could be done to build an RV. At the proper time, he handed in his papers and took his retirement but couldn't stay away from the place. So here he was giving tours of the very vehicles which he use to build. He seemed to know everything there ever was about the subject and was always ready to field questions tossed up by the interested little group. As the tour wore down and the conversation turned to other things, Laura asked him what was the large field with all the old buildings in it next to where we were parked for the night. "That," he said "is the Heritage Park. It's a great place to see what life was like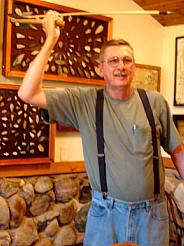 many years ago in this area." He informed us that he also gave tours over there, and that was all we needed. We made arrangements to meet him there the next day. The next morning we arrived to find Jim in the main museum room. In ffhis hand was a throwing stick on which he was balancing an old arrow. Slowly his long arm wound back to its full extension and then with a quick smooth move, he sent the arrow flying down to the other end of the empty building with amazing accuracy, into the small target he had set up there. I had seen many paintings of ancient Indians with the throwing stick but had never actually seen one in use. It was really quick, every bit equal to a light longbow. Jim explained that the thrower was an "atlatl" and has been around since perhaps 16,000 BC. In North America, it probably came over with the Indians through the Barring Straights into Beringia during the last great Ice Age. While getting into the conversation about the museum, Laura noticed a table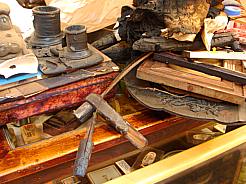 with quite a bit of charred remains on it. Jim explained that in their recent past they had suffered a arson fire which was yet unsolved. Many unique artifacts were lost, others were severely damaged. He and a friend were meticulously working through the remains trying to salvage what could be saved. Laura said "Aren't the ravages of time and neglect doing enough that they don't need the help of idiots with nothing better to do for excitement?" Jim just smiled with the resignation of a man who has seen much lost in both ways. From here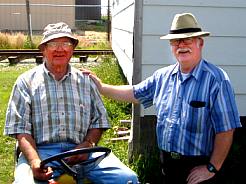 we went outside and met the other important character in the park. One might say that Stanford Holton and his wife were the inspiration for the museum. I was told that many years ago, Stan had a farm, and from time to time would collect old machinery until one day it was decided that they would let people come out and see what they had gathered. This continued until the whole thing just got too big and they decided to combine with the Timberline Museum and form the museum we were seeing today. Now long retired, he and his wife keep their hands busy maintaining all the buildings and items that are on display. He was cutting grass when I caught up with him for a few comments. From here we were off to see all that there was to see. We started with one of of the oldest building available. There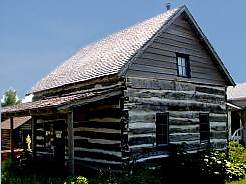 are 3 log cabins on the property. According to the sign posed on the front of the building, this one was reconstructed after having been taken apart and left stacked up in a person's yard. It had been lived in until 1975. The logs were put back together again at the Heritage Park during the summer of 2001. Volunteers set the logs in place and then filled the space between the logs with a cement mixture called chinking. Lumber used in the upstairs and for the roof boards were cut in the lumber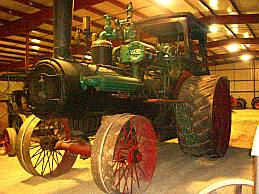 mill operated in the park. The roof shingles were made at the park also. From there we headed over to a huge barn the size of a football field. Inside was housed every kind of motorized farm equipment one could ever find in this part of the country. We spent an hour wandering down row after row of neatly parked tractors, plows, trucks and other assorted machines I had no idea of their purpose. I thought the 1902 Case tractor was a perfect example of what we found there. There were also service vehicles with several turn of the century fire trucks. This was the place for the old machine lover. One might spend all day here and not see everything. There were many other things outside the barn including a train track that was under construction. We had a great time and are glad we did not miss this one.
*** THE END ***