The Farm and Ranch Heritage Museum
The Commercial History of New Mexico
Las Cruces, New Mexico
March 26, 2003
Having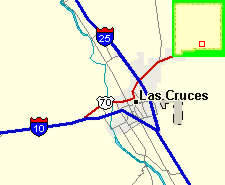 traveled all 50 states, we have seen most of them in a piecemeal fashion as we wandered aimlessly from one point to another. New Mexico was one of the states that we covered from side to side and from top to bottom. There are not a lot of big towns, but it seemed almost every place we stopped had something of interest to offer. The Farm and Ranch Heritage museum just outside Las Cruces was not the most spectacular exhibit we had been to but it had a lot of interesting things. Primarily it dealt with the agricultural aspects of the state, mostly from the distant past. A brochure explained that there were some 25,000 square feet for the exhibit made up of a combination of permanent and traveling exhibits.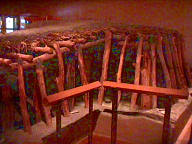 One exhibit uses 33 people to tell the story of 3000 years of agriculture in the state. There are hundreds of photographs and artifacts along with some full size dioramas. We started with an exhibit of a Mogollon Pithouse used by local Indians about 1300 years ago. This half-buried structure would have been part of a village consisting of several pithouses and one larger structure probably used for activities involving the entire community. These villages were built on terraces overlooking the Mimbres River and its tributaries, as well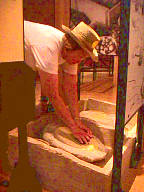 as elsewhere in the southwest of the state. The objects in the pithouse reflect the daily activities of the local prehistoric farmers. Many of the activities revolved around food. These people had domestic foods. Mostly they planted a form of corn which they ground into a maize. With corn being the staple for the ancient dwellers of this state, there were many photos and artifacts about the product. Laura found a grinding stone and stone grinder where she tried her luck at creating maize. It wasn't long before she was back, reporting that there was far too much work required for the amount of food she was able to create. In colonial New Mexico, grain and flour were stored in large chests on legs, protecting them from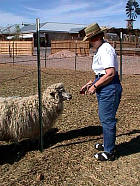 rodent infestation. Surviving a long winter was dependant upon stored grain and other food items. The large grain chest was designed with survival in mind and was an important possession. The grain granero was the largest piece of furniture a family might posses and was kept outside under a protective portal erected as common property in the center of the village. From here we passed through exhibits about pecans, cotton and every other type of agriculture ever developed in the state. After the inside review was complete, we ventured outside to see what the surrounding land had to offer. A large portion of the land behind the museum building was covered with old rusting relics of a day gone by. Many of the implements were easily recognized, as we wandered through tractors, hay rakes, harrows, plows, ditch diggers and all kinds of other devices designed for specific needs that have long since been replaced by the modern, more sophisticated, electronic devises used today. Our final tour was through the animal pens which contained the usual assortment of horses, cows and sheep. Laura wandered around until a particular sheep took a liking to her and wandered over to say "hello". Although the exhibits stayed fairly close to the theme of New Mexico agriculture, I felt that it was well worth the time and effort to visit.
*** THE END ***