Nona Kelley Carver
Cowboy Poet
Tucson, Arizona
January 15, 2001
If the term "Cowboy Poet" brings a mental image of a rough looking man speaking short verses of barely rhyming prose to his horse then forget it. We have traveled a number of states that we have run into rugged looking males dressed in typical cowboy attire who told us they were cowboy poets. You have to understand that the title of cowboy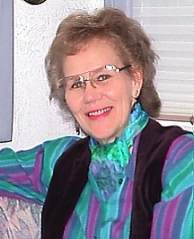 poet isn't something that people take lightly. It is something that is won through a lot of hard work, effort, and appearing at Cowboy Poetry get-togethers. Many of which are by invitation only. While staying in an RV park just outside of Tucson Arizona we met our first female Cowboy Poet. She was introduced to us by someone in the park and she and her husband, Alfred, were gracious enough to visit with us in our fifth-wheel and treat us to a sample of her poetry. Nona Kelley Carver is the picture of everyone's grandmother. She is a petite lady, small framed, with a soft spoken way of talking and just a hint of an accent. She recited one of her poems that she called "Grandma's Yellow Roses." All I could say was Wow! Her poem brought tears to my eyes and I noticed that Bob's eyes were a little shiny as well. She told us that she hadn't started writing poetry until 1994 when she was laid up with ankle surgery and wasn't allowed up for six weeks. It was hard to believe that this lady hadn't been writing all of her life. The poetry was written about someone she knew, but the rhyming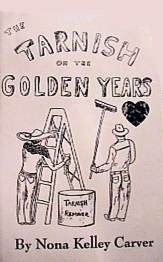 and cadence were as professional as any I had read. She and her husband come from Colorado and were staying in the park in Arizona for the winter. She told us that she had 3 books of poetry published and a number of greeting cards that she had done. Before they left she mentioned that she had been invited to the Cochise Cowboy Poetry and Music Gathering in Sierra Vista AZ the first week in February. We will certainly make an effort to get down there to hear her, as well as other poets and song writers/players. It just sounds like it would be a great time.
To give you a little more background about Nona she was born Nona Kelley Grubbs in Colorado. She said it is still one of her favorite places to be. She learned to read by the light of a kerosene lamp in a cabin built of logs. She, her sister and two brothers rode horses to school. It was at the country school that she met Alfred Carver, who she married in 1953. They began ranching at Mesa, Colorado, purchasing land that had been in the Carver family for three generations. They operated a dairy and also raised beef cattle. It was here that their two sons were raised. In addition to their two sons, they now have two daughters-in-law, and three grandchildren. Following an injury in 1994 that required her to lie flat for six weeks, Non began to write poetry. She truly believes it was a gift from God to help her through the difficult time. She was in too much pain to sleep, and unable to do anything else,
so asked for a pencil and some paper. Her health has been restored, but she continues to write.
Nona writes from many years of farm and ranch experience. Much of her poetry is drawn from her memories of various people who have crossed her path and enriched her life. Her entanglements with cows and horses, skunks, goats and hornets have added spice to the verses she refers to as "fiction with a few facts thrown in." Those who know her will recognize the truth. Her pen and ink cartoon characters are designed to draw the reader more fully into the merriment of the moment. The Tarnish on the Golden Years was published in 1994. It is poetry covering the subject of Retirement, Wrinkles, and Rotten Memory. Cowboys, Cookstoves and Catastrophes is Nona's second book. Her third book is entitled Carver Country Cowboys. Alfred and Nona continue to live in the country on part of the ranch they once owned and operated. They welcome the visits of family and friends, many of whom she has woven into the fabric of the stories she tells. While visiting with Nona I couldn't help but notice the twinkle in her eye when she talked about her poetry and things that had occurred in her life. She has that rare ability to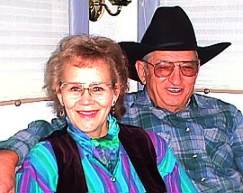 convey that same twinkle into her poetry. She explained to me, that the aim of Cowboy Poetry is to keep the memory of the Old West alive. Nona's work has been published in magazines, anthologies and newspapers. The National Library of Poetry requested that she write a poem to include in their new anthology, Best Poems of 1995. The Absent Friend was her contribution to this work. She also publishes a line of greeting cards called CarverCards. Her work has spread from Australia to Amsterdam. She enjoys reciting in Cowboy Poetry Gatherings, and The National Cowboy Symposium and Celebration in Lubbock, Texas

An introduction that she wrote in her Cowboys, Cookstoves and Catastrophes particularly caught my eye:
When you step through the open door
That memory leaves ajar,
Please bring your sense of humor
And together we'll go far.

Please set aside a little time
To just sit down, relax.
Disconnect the telephone,
And do turn off the fax.

Return with me to other times,
When life was much more simple.
When we saw joy in smiling eyes,
And noticed every dimple.

To obtain copies of her books you can write to:
Carver Country Poetry
P.O. Box 115
Mesa, CO 81643-0115
or
Visa and Master Card orders taken by:
The Treasure House Souvenirs and Gifts
Mesa CO.
1-970-268-5642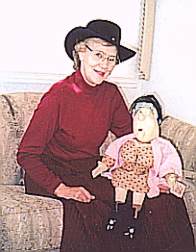 We went to Nona's performance at the Cochise Cowboy Poetry Gathering and once again this charming lady managed to surprise us. Not only did she give a fantastic performance she did so with an old friend. Nona showed up escorted by "Grandma". Grandma had to be one of the cutest little gals I've seen in a long time. Now you would think that since she was the star of many of Nona's poems she would have a big head. But no not Grandma. She was just as charming and down to earth as she had been portrayed. Now if you think that Nona had a co-performer just take a look at the picture. We're sure hoping on running into Nona and Grandma at some more Cowboy Poet Gathering some time in the future.

Good Luck! Have Fun! and Stay Safe!
Laura