Olympia National Forest
Port Angeles, Cresent Beach, Forks, LaPush
The Olympia Peninsula, Washington
September 1st - 10th, 1998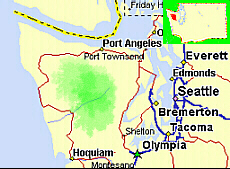 Since we were already up in the northwest area of Washington State we felt we would be remiss if we did not go to Cape Flattery (which is the western-most point of the continental United States). So in leaving Port Angeles we went west on Route 112 towards Neah Bay stopping at a trailer park just west of a town called Sekiu (pronounced Cee-Que).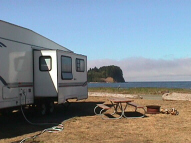 Our site was just across the street from a primitive beach which was covered with large clumps of seaweed and driftwood. As we checked in we received an admonition from our camp host that we were not allowed to remove any of the driftwood along the beach for fires. Since we had brought our own firewood it wasn't a problem.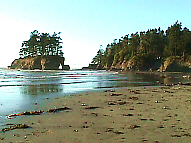 The view of the Straits of Juan De Fuca at this point was really lovely, while across the bay we could see Vancouver British Columbia in the distance. After we had settled in, and armed with a map of the area, we decided to see Cape Flattery for ourselves. Cape Flattery is located on the Makah Indian Reservation at Neah Bay. As we entered the Indian Reservation we noted a sign indicating that you were not allowed
to remove any types of sea shells, clams, seaweed, driftwood, or in any way disturb nature. There was a beautiful marina that was operated by the Makah Indians for visitors, along with several motels and RV parks. We continued on through town to the road that went out to Cape Flattery. Well, the further out of town we went the worse the road got. Pretty soon we started to wonder if the Conestoga Wagons of our forefathers had heavy duty springs, because some of the ruts we hit liked to jarred our teeth loose even with our heavy duty suspension in the truck. Although; having driven to Silver City Idaho (outside of Boise) this road seemed like a superhighway. Laura took the wheel in both hands and rumbled on through. When we got to the parking lot we saw a number of cars there, so we knew we were not the only ones looking for "bragging-rights" of standing on this part of the U.S. There was a bulletin board at the start of the trail warning of recent Cougar and Black Bear sightings and advising what to do if one was sighted.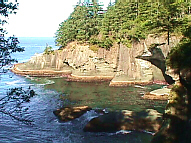 By now Laura and I both had our own personal walking sticks and set off on the trail. Setting foot into the forest made me feel like my forefathers must have when they came this way. An awe of the beauty of nature was foremost in our minds. Giant trees that had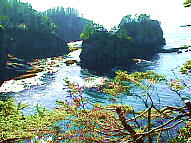 survived hundreds of years grew along both sides of the trail. Laura decided to utilize the same method of "animal control" she had used in Glacier National Park, and kept saying in a loud clear voice as we walked along "HERE BEAR , HERE BEAR!" Hmmm! Funny but we never saw a single one here either. There were several observation platforms that led off the trail which had spectacular views of various inlets off the Bay. As we finally got to the end of the trail (about ¾ of a mile) there was a raised platform that had a clear view of Tatoosh Island with it's lighthouse (which is located directly across from Cape Flattery), along with some large rocks nearby.