Pioneer Park
Washington's Living History
Ferndale, WA
September 15, 2002
While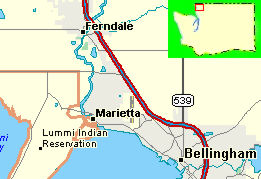 staying in Bellingham WA, for a week, we took a short trip of about 6 miles to Ferndale. We were looking for Pioneer Park, a small concentration of old log homes. Only a couple of acres in size, this area was quite interesting. At the end of the 19th century much of what is now Washington State was wilderness. But refugees from both our own Civil War and Europe were arriving. The primary source of income was forestry and agriculture. With only the simplest of tools to work with, the giant western red cedar was felled and logs were created to build cabins. At one time these wonderfully simple structures were prevalent throughout the area. But as times changed, one by one the cabins were torn down, plastered over, or framed in. There may be hundreds still in existence but no one really knows which house now holds the secrets of an old log cabin within its walls. Those few that have been found sometimes find their way to the Pioneer Park. The Ferndale Heritage Society provided costumed docents who conduct guided tours. Here we met a delightful lady in a turn of the century costume who took us around the village-like park. Katie Baker was a constant source of information about the individual buildings and the strange items that we found within them. After meeting Katie at the reception house we started out on a leisurely walk around the park. Along the way, Katie would unlock each building and let us in for a look around. Until recently some of these buildings may have been in use. One cabin was dedicated to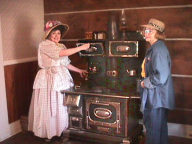 the Veterans from the area. It had an unrelated assortment of artifacts including a large Nazi banner. There were German and Japanese rifles and bayonets brought back from the Second World war. There was also a fascinating photo album containing snapshots from The First World War. Further down the line we looked inside a cabin that was decorated as a homestead of the late 1800s. Katie show us a delightful device, the first vacuum cleaner. Yep it was built before electric motors were around. You had to pull on the plunger handle to create the suction. It was fairly effective but very tiring to use.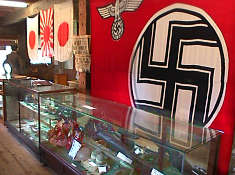 Another cabin had been turned into a printing office. Inside was a machine not often seen. Credit for the first typesetting machine in 1882, is generally given to Dr. William Church, an American who spent most of his life in England. Although Church's machine was ingenious and anticipated many important later developments, it was never a commercial success. In 1885 Ottmar Merganthaler (1854-99) completed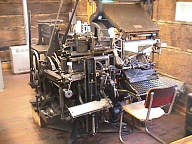 a hot-metal composition device that soon evolved into the hugely successful Linotype machine. In 1886 the first Linotype, so called because it cast entire lines of type at one time, was installed in the New Your Tribune, beginning a long reign in newspaper composing rooms throughout the world. This machine pre-dated type setting machines. It used melted led poured over molds to create as much as a whole page. The tour ended at the old log church. The members of the Zion Congregational Church built the hand-hewn cedar log church in 1876. It was built on the north side of California Creek, four miles south of Blaine. It is still in use today. All in all it was a wonderful look into the past on a beautiful day.
*** THE END ***