Pioneer Arizona
Living History Museum
Phoenix, AZ.
December 29, 2000
One of the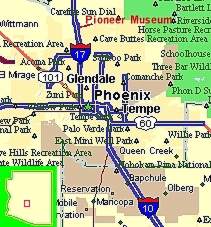 things we try to do as we travel is investigate places and things that might be off the beaten track and, as such, may not be normally covered by your average tourist travel information. While we were staying in Mesa I happened across a brochure for a place called the Pioneer Arizona Living History Museum. Bob and I love living history museums and never miss a chance to visit one. After looking into it we determined it was located on I-17 at exit 225 (about 30 miles North of Phoenix). The brochure said that you could "Experience life in turn-of-the-century Arizona, at the largest living history museum west of the Rockies." As we pulled off of at exit 225 we passed a very nice looking campground, called the Pioneer RV Park, in case one would care to camp in that area. Going into the parking lot we located the ticket office and for a small fee found that we could go through the area which included 28 historic buildings and a number of docents. (Docents are costumed interpreters). Along the parking lot next to the ticket office was a small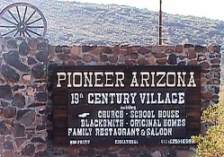 restaurant and saloon. As we entered the park we met up with Juanita Buckley, who was the director. She explained a little about the background of the museum and told us to feel free to look around as much as we wanted and come back later if we had any questions. We learned that plans for the park were first formulated in 1956 when a dedicated group of visionaries met at a restaurant and began to lament the loss of Arizona's history. From that first meeting grew the organization that became the Pioneer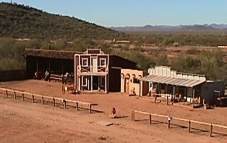 Arizona Foundation and their mission to save the history of Arizona from vandalism and destruction. Their dream was to build "a living monument to the faith, foresight, and fortitude of Arizona's Pioneers." What you see in the park today is only Phase I of the dream of the founders. They feel that through their faith, foresight, and fortitude they will complete their dream. In 1965 the museum was notified that they had been awarded national recognition for preserving American heritage and outstanding accomplishment in achieving better understanding of the American way of life.
What we had found in our travels is that the "old way of life" whether it's in Arizona or any other state is all too quickly becoming a subject of "stuffy old history books". Unfortunately with the mobile life that people tend to live today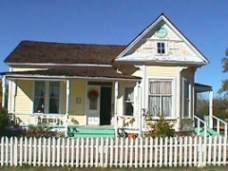 the old family stories and histories don't get passed down from generation to generation as they did in the past. All too often grandparents (like ourselves) are busy traveling and don't have the time to spend with the grandchildren to sit down and tell them about their heritage (if you could pry them out of their video games). However, more and more we are seeing people who realize that the past is important to our upcoming generations and that we must preserve it for them before it is too late. This museum is only a small part of a growing tide in the U.S. to preserve our heritage for our progeny. I sincerely applaude the people who have had the foresight to do this.
The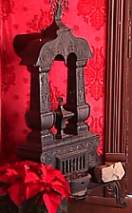 brochure that we were given included a thorough description on each building. It not only included a history on the building but in many cases the people who owned them or passed through them. As we walked into the park area we went into a victorian house that featured a most unusual wood stove in a living room. Then we went over to an old miners' shack next to a display of a mine shaft. It was hard to imagine living in conditions such as this. Then we went over to a ranchers cabin. Leopold stepped out and invited us into his home, explaining that his wife had gone to visit her mother but we were most welcome to "stop and set a spell". Everything inside the cabin was as it would have been in the late 1800s. Leopold told us that he had been part of the museums docents for a number of years. He explained in detail what his life would have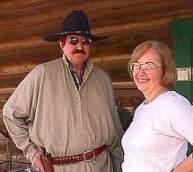 been like in the 1800s and the function for any and all of the implements we saw inside the cabin. We left there and went over to the horse corral where we met Bobby. He was 16 years old and had been with the museum for 5 years. It was really gratifying to see that the docents not only included senior citizens but the program was interesting enough to attract the youngsters that they were trying to recreate this all for. At our next stop we encountered the Sheriff. He was showing a group of youngsters from England around and it was obvious they were fascinated. After visiting several other buildings on our way towards the exit, I couldn't help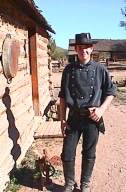 but be grateful for the people all over the country that were doing such an excellent job of preserving our history in such a way that it wasn't just dull words on a page for our youngsters. To be able to actually immerse oneself in history in the manner has to be much more effective and long lasting.
We learned that they had several programs each year such as their Pioneer Bluegrass Days which were held on February 17 & 18 of this year. There are also a number of shooting re-enactments held with lots of guns, and noise. Their hours are 9am-5pm, Tue. thru Sun. all year. If you'd like more information on the Museum you can contact them at: 623-465-1052.
We understand that they are in the process of working on a Website, but haven't gotten anything finalized at this time.
Good Luck! Have Fun! and Stay Safe!
Laura