Wildlife 911
Wrede's Wildlife Rehab Center
4900 Wilderness Trail
Sebring, FL 33872
December 30th, 1999
Off a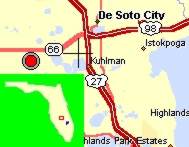 gravel road in a nondescript area of central Florida is the The Wrede Wildlife Rehabilitation Center. Having heard about it from a camper at our park, we called to see if we could come out and talk to them. Karen said that we should come out whenever we wanted, that they welcomed visitors, contributors and volunteers. Having one of their brochures in our hands we knew that one of the things that they needed at the center was bleach. So on one of Laura's shopping trips she came back toting several gallons of bleach. We ventured out and arrived in late afternoon.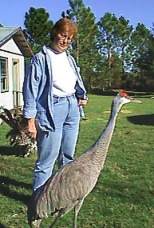 They were very happy to receive the bleach as it was utilized daily to keep everything disinfected. The center wasn't hard to recognize. I had the distinct feeling of entering Dr. Doolittles fantasy, as a Sandhill Crane walked up, looked me over, and stuck his long bill into my shirt pocket looking for snacks. He finally decided I probably didn't have anything edible so he moved off a foot or so with otherwise no concern for our presence. Before Karen was even able to greet us, Tom, the turkey introduced himself. Tom would quickly become the source of amusement during the remainder of the day as his undivided affection for me would be proved over and over again somewhat to my chagrin, especially when I was kneeling to take a picture. I looked over and saw Laura bent over in laughter,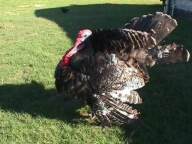 so I handed her the camera and said, "if it's so darned funny take a picture." Well, try as she would she said she just couldn't stop the camera from shaking (due to uncontrolled mirth). Since she wasn't any help taking the picture she tried her best to get "Tom" to understand that I was "spoken for". It didn't seem to dampen Tom's ardor in the least.
On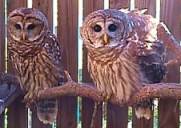 the surface, David and Karen Wrede seem to be the typical farm type people getting along with nature. However, their somewhat unusual story began some 15 years ago when Karen rescued a juvenile possum from a local school yard. After the local ranger heard that she was going to raise it and then return it to wild, he asked her if she and her husband could care for a few other creatures that pass through the ranger's hands who had been either abandoned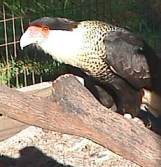 or injured. They were even offered a wild animal permit to raise just about anything native to the area. Well, there is an old saying about "You can't keep a good thing down.", and this year over 1000 animals will have passed through the care, feeding and rehabilitation of these two self-made naturalists. With the help of a daughter and son-in-law, a hand full of volunteers and an occasional community service assignee from one of the local courts.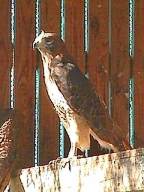 Not all the animals that arrive, by just about every method and manner known, can be fixed up and sent on their way. The minds and bodies of animals are every bit as fragile as humans, with the definite disadvantage, that the animals can't tell you what hurts. Many of them will never leave the sprawling 15 acres under the Wrede's control, due to the fact that they are physically incapable of ever caring for themselves. Karen said she didn't know exactly how many animals were presently being housed here, but it was close to 40. We walked from the house towards the side of the road along the front edge where a cage containing two great white egrets stood "brought in after a boating accident", she explained. "broken wings", she continued