Roaring Camp
&
Big Trees Narrow Gauge Railroad
Stockyards National Historic District
Felton, California
October 29, 2000
While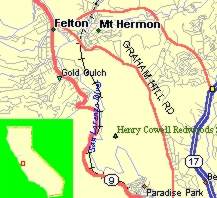 traveling we always try to make sure that we go to see the "things you can't miss" but at the same time we try to find smaller attractions that could be overlooked by the casual traveler. One of these that we found while staying in Felton, California was the Roaring Camp and Big Trees Narrow Gauge Railroad. Roaring Camp turned out to be a lot of fun, but the story behind it held the most fascination for Bob and I. The story of Roaring Camp goes back to the 1800s. Bret Harte vacationed in the Santa Cruz area and heard of a true story that had occurred at Roaring Camp. From this came the story "The Luck of Roaring Camp", which chronicled the transformation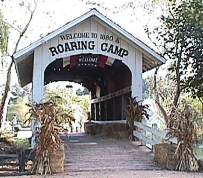 of a group of rough and tumble mountain men who had become enchanted by their adoption of an orphaned child. The story brought Harte International fame. However, the real story behind today's Roaring Camp is the story of one man's dream and the lady who keeps that dream alive. While he was growing up F. Norman "Norm" Clark spent time with a relative out west who was a railroader. As he grew older he saw all the old railroads slowly eroded by modernization. He realized that all the things he loved about steam engines would be lost to future generations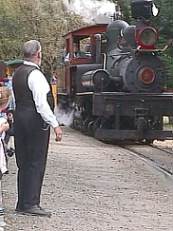 if someone didn't make an effort to preserve them. He first set about doing this after he arrived in Santa Cruz County in 1958. He had read about a railway line in the Santa Cruz Mountains which no longer operated. He began working on his dream by reinstating passenger service on the route through the redwoods. Although he only had $25 in his pocket, he made plans to build and/or restore two railway lines through the historic Redwood trees. He contacted descendants of Joseph Welch (who originally owned the railway) and obtained a 99 years leasehold on 170 acres of the original Big Trees Ranch (another portion of the Big Trees Ranch had become the main Redwood grove of nearby Henry Cowell Redwoods State Park). By 1963, Clark had succeeded in building a half mile stretch of narrow-gauge track, upon which ran a steam locomotive and four passenger cars.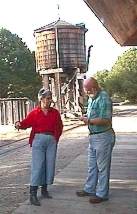 On April 6, 1963, the Roaring Camp and Big Trees Narrow Gauge Railroad made its first scheduled run, pulling 44 revenue passengers that day. Once the railroad got going there were a number of disasters that set back but didn't stop Clark's dream. During this time he met a married a beautiful lady by the name of Georgiana or Georgie to her friends. Unfortunately in 1985 Norm Clark died of pneumonia which was the result of his working on his beloved railroad during bad weather. Before he died Norm extracted a promise from Georgiana that she would keep the park running for a year. Well folks that was in 1985 and she's still going strong. Georgiana is of Hawaii heritage and is very petite. At first glance she would appear to be very frail and delicate, but don't you believe it. This is a lady who's kept her man's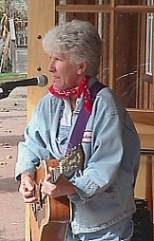 dream alive years after he was gone. I truly believe somewhere in time that it became her dream as well. As you enter the complex you see a number of buildings and of course the main focus is the train depot. All around the park you see docents in costume of the 1800s. We saw one such lady playing a guitar outside of the mess hall. Her name was Patti Maxine and she did a beautiful job on the guitar. We wandered around a bit looking at the various out buildings. Finally it was time to board the train for a trip into the Redwoods. It was a beautiful day and the car we were riding in was an open car. It was fun to watch some of the kids as we passed through the Giant Redwoods. We finally arrived at Bear Mountain clearing and got out. Our Conductor gave a talk on how the Redwoods reproduce themselves. If you stood back it almost looked like an old time preacher conducting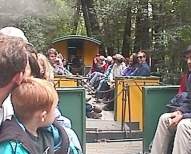 an outdoor revival service. Everyone was so intent on what he was saying. He pointed to a stump in the center of a large circle of trees. He explained that "Mom" had sent out roots and each of these roots grew up to be trees (her children) and then these sent out roots and those grew up to become her grandchildren. It was an interesting analogy. We then got back on our train for the trip back to the depot. We found out that a train can only go up a slight grade. So in order for the Roaring Camp train to get up to Bear Mountain it had to go through a series of switchbacks. It is a method of switching the train back and forth over a series of tracks to allow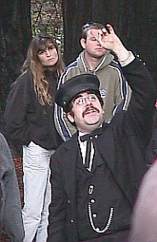 it to make an ascent without going up a very steep grade. It was really ingenious how they worked this out. This was only done after the original trestle that they had built was burned and they had to find an alternative method to get the train up the mountain. In addition to the train trip we took, they have another trip that actually takes you down into Santa Cruz to the boardwalk and back. A story has it that President Theodore Roosevelt visited the area and made it a point to lose his secret servicemen so he could wander by himself in the beautiful woods. Well needless to say the secret servicemen were frantic. You never get points when you lose a president. Finally after they had searched for sometime they heard a loud noise coming from a tree some 100 yards away. It seems that the President got tired after his wandering and curled up in a hollow tree to take a nap. As the Secret Service checked out the source of the noise, they were much relieved to find TR curled up in the tree, snoring soundly. They woke him up and suggested that perhaps he might want to finish his nap in his hotel room. Truth or Legend? Who knows there are so many legends connected with Roaring Camp. If you want to take a train ride into the 1800s be sure and stop by Roaring Camp and spend some time just immersing yourself into the richness of the history of the area and the beauty of the Redwood Trees.
For more about this adventure, check out http://www.roaringcamp.com
Good Luck! Have Fun! and Stay Safe!
Laura