Sante Fe
A Charming Old Town
New Mexico
April 24, 2001
Santa Fe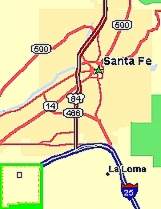 is a city rich in heritage. It is a city where opposing strands of the enduring weave of New Mexico converge. American Indian, Spanish and Anglo cultures; church and state; past and future remain unmerged but firmly linked in Santa Fe. As these differences are the essence of the state, they also are the soul and charm of its capital city. The past was evident at the site that newly appointed governor Don Pedro de Peralta chose for the provincial capital 1609-10. The Spanish penchant for long titles did not fail Peralta, who named his city La Villa Real de Santa Fé de San Francisco de Asis--the Royal City of the Holy Faith of St. Francis of Assisi. By late 1610 the Plaza, governor's palace and some city walls were tangible proof of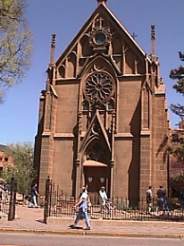 the beginning of what would become the oldest continuous seat of government in the United States. That same year the Mission of San Miguel of Santa Fe was established to serve as headquarters for a second power in the region: the church. Franciscan fathers quickly fanned out to usher the local tribe members into the Christian fold; a 1617 report stated that 14,000 souls had been converted. Santa Fe has been a major Catholic stronghold since. Now a privately owned museum, the 1878 Loretto Chapel is well-known for its spiral screw staircase built without nails or visible support beams. Time mercifully has shortened the city's name to Santa Fe, but the core of the original settlement--the Plaza--remains essentially intact. At its north edge Peralta's palacio--a monument to continuity of rule, if not of rulers--still stands. Four flags have flown over the building as a governmental center under Spain,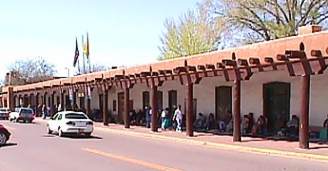 Mexico, the Confederate States of America and the United States. Today this area serves as a shopping area with peoples from different cultures offering beautiful handmade pieces, some at very reasonable prices. As it has been for nearly 4 centuries, the Plaza, the square block bounded by Lincoln Avenue, E. Palace Avenue, Santa Fe Trail and San Francisco Street, is a vital center of commerce, festivals and history. Guided walking tours of the city regularly depart from the blue gate of the Palace of the Governors. Santa Fe is a town filled with museums and lots of lovely small shops along its winding streets. It is definitely a city not to be missed, but I would advise against taking any large size RVs through town. Most of the streets are very narrow and the turns are very sharp. While visiting the area, in addition to the sites in town, be sure and take the various side trips that are available: The Santa Fe Scenic Byway follows SR 475 northeast through Little Tesuque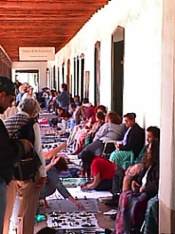 Canyon to Hyde Memorial State Park and continues to the Santa Fe Ski Area winter sports area. The loop is completed via FR 102 through Pacheco Canyon and SR 22, which ends at Tesuque, about 6 miles north. Forest roads are not paved; check road conditions before starting. Turquoise Trail, SRs 14 and 536, runs along the east side of the Sandias between Cedar Crest and La Cienega; highlights along this route include spectacular mountain scenery, a few ghost towns, thick pine and aspen forests and Sandia Crest. Another interesting trip follows I-25 through Glorieta Pass to Pecos. There, SR 63 turns north to Cowles at the edge of Santa Fe National Forest's Pecos Wilderness, known for its trout fishing, big game hunting and large elk herds. Various area pueblos welcome visitors; check for hours and restrictions.
Good Luck! Have Fun! and Stay Safe!
Laura