Palace of Fine Arts
A Palace Resurrected
San Francisco, CA.
October 17, 2000
When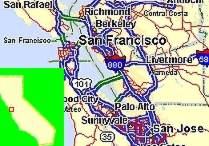 I think about San Francisco, several things come to mind. Fisherman's wharf, Chinatown, or the Golden Gate Bridge. Any one of these would make a delightful travel story but I was looking for something that I hadn't experienced. I found it in the remains of Bernard R. Maybeck's dream. This turn of the century architect who envisioned a giant Roman ruins with Greek highlights mutilated and overgrown, in the mood of a Piranesi engraving as a back drop for the 1915 Panama-Pacific International Exposition in the city by the Bay. A mind-boggling design of grandeur and splendor that when completed stretched over a mile.

Huge Roman columns supporting rotundas and walkways with magnificent palace faces with Greek gods and statuettes in harmony with gardens and fountains. The mutilation and ruins look was scrubbed by the advisory council and in its place stood the most beautiful Romanesque city ever to stand on North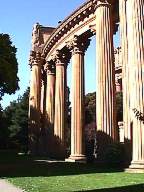 American soil. It was constructed of a wood frame covered with a mixture of plaster and burlap type fiber called "staff". The materiel was completely pliable and various finishes could make it appear like stone or marble. When finished it was a spectacle to behold the likes of which few people had ever seen. The Fair lasted from February
to December of 1915 at which time the area was mostly abandoned. It was far too large to be used for any one theme and the soft construction was not built to last. It went through many trials and tribulations before becoming what the creator had first envisioned, a ruin. However it was not to be forgotten, and after its final demolition in the 1960s, like the Phoenix rising out of the ashes, an exact replica of the Palace and surrounding columns was constructed out of light weight pour-to-form concrete. Each figure, statue, urn and bas-relief was re-created in every detail, until today one small piece of it stands in all its glory to behold for all times. Just gauging by the Palace, the entire structure in 1915 must have been a sight to behold. This was worth the trip.
*** THE END ***