Shore Acres State Park
Located on Cape Arago Hwy, 13 miles SW of Coos Bay
Charleston, Oregon
Oct. 03, 2000
Shore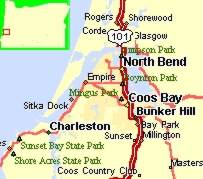 Acres State Park is located just outside of Coos Bay, Oregon. It's actually in a small town called Charleston. The Park's big claim to fame is its beautiful garden and the story that goes behind the park itself. Shore Acres began as a private estate with luxurious gardens, featuring trees, shrubs, and flowering plants brought from around the world aboard the sailing ships of pioneer lumberman and shipbuilder Louis B. Simpson. Simpson developed the summer home into a showplace three-story mansion complete with a heated, indoor swimming pool and a large ballroom. The grounds contained five acres of formal gardens, including a Japanese-style garden built around a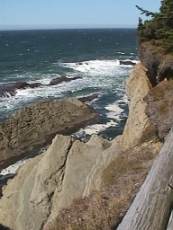 100-foot lily pond. When fire destroyed the mansion in 1921, Simpson began to build an even larger replacement - two stories high and 224 feet long. However, financial losses in the 1930s caused both house and grounds to fall into disrepair. Shore Acres was acquired by the State of Oregon in 1942 through purchase from Louis J. and Leta Simpson. A decade earlier, the Simpsons had concluded that the spectacular beauty of their property was, in part, a public trust. In 1932 they gave to the people of Oregon 134 acres of heavily forested headlands, coves, and shoreline that became Cape Arago State Park.
Simpson's beloved Shore Acres is now used by the state of Oregon as a public park. In 1948 the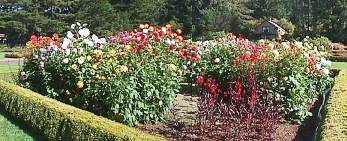 Highway Commission decided to raze the second Simpson mansion rather than pay the maintenance costs. One section, the former dining room wing, was moved to the maintenance area and served until 1973 as a gardener's cottage. In 1951 the State razed the original carriage house, a two story building north of the house site on the cliffs. The restored formal gardens continue to attract thousands of visitors. The garden features year-round displays of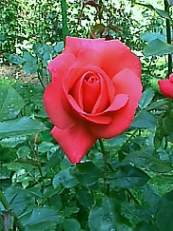 floral and scenic beauty and the annual "Holiday Lights at Shore Acres" event in December. A fully enclosed observation building now occupies the site of Simpson's mansions, offering spectacular views of rugged seascapes, towering storm waves, and glimpses of migrating whales from December through June.
One mile north of Shore Acres, Sunset Bay State Park offers picnic and overnight camping facilities. One mile to the south, Cape Arago State Park has hiking trails, picnic tables, and excellent opportunities for viewing tidepool life and marine mammals (whales, seals, and sea lions). A hiking trail, which is part of the Coast Trail, also connects the three parks.
We saw several pictures of the original mansion that was on this site. It was gorgeous. The house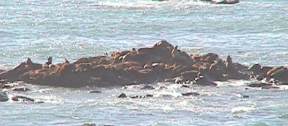 was built by Louis Simpson facing the ocean on the cliffs. It is difficult to imagine what life must have been like living on the cliffs above a very rugged coast. The storms that came in off the sea lashed at the house with an unbelievable fury, but from what we have been told the owners liked the beauty of the storms. We heard rumors while we were visiting the gardens that the State is considering rebuilding the mansion as it once was. It's a shame that the original house was destroyed but it would be interesting to see it rebuilt as it once was. As we wandered the gardens we saw a number of trees and shrubs that we had seen nowhere else. Even though it was not the height of the growing season the garden was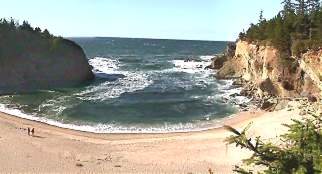 still beautiful. I always feel, as I wander through beautiful flowers, a sense of peace and belonging to the earth. The scents and colors just overwhelm the senses. And then to walk just a few hundred yards away and see the rugged cliffs and the ocean is somewhat of a shock. We also went down to what might have been a private beach area for the Simpson family. The rocks that guarded the entrance to the cove would have provided the family with a good deal of privacy. We felt the beauty of the Park was well worth the drive there.

To check out this and other parks run by the State of Oregon, check out their website at: http://www.oregonstateparks.org.

Good Luck! Have Fun! and Stay Safe!
Laura