Tryon Palace & Gardens
610 Pollock St.
New Bern, NC
November 5, 2001
While
traveling through South Carolina we stopped by the city of New Bern. Our daughter, Karin, used to work in this area when her husband, Shawn, was in the Marine Corps and had told us many times about how lovely the Tryon Palace was. So, we made a special trip to see it. Fortunately, it was everything that she had said. Tryon Palace is the cornerstone of historic New Bern and the city's most famous building today, just as it was in the late 1700s. The original Georgian building of Tryon Palace was built between 1767 and 1770 as the Government House and residence of the royal governor of the colony of North Carolina, William Tryon. It was constructed of local brick, with pine and cypress timbers felled in nearby forests. Skilled craftsmen were brought to New Bern from as far away as Philadelphia and London, as were building materials, such as lead, glass, and ironwork, that were not available locally. John Hawks was the first professionally trained builder and architect to practice in the colony of North Carolina, and was one of the few working in any of colonies. As his elegant plans illustrate, Hawks brought a knowledge of up-to-date English architecture to North Carolina.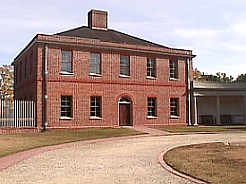 Governor Tryon and his family moved into their new home in 1770 and on December 5 they hosted "a very grand and noble Entertainment and Ball" to celebrate its completion. The Tryons were not able to enjoy their new home very long, however. In July of 1771 William Tryon was appointed governor of New York and, with his family, moved to Fort George in New York City. Soon the new (and last) royal governor, Josiah Martin, his wife and their four children moved into the government house. In May of 1775, at the onset of the American Revolution, Martin fled the capital, having already sent his wife and children to New York for safety.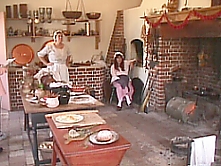 Until 1794, when the state capital was moved westward to Raleigh, the Palace was used sporadically as a residence for the elected governors and for governmental meetings. When President George Washington visited New Bern in 1791, he was entertained at the Palace. The building was demolished in the 19th century and the west wing, or Stables, remained standing and was eventually converted to a residence in use well into the 20th century.
A movement arose in the 1920s and 30s to reconstruct the Palace on its original foundations. With donations and two trust funds the plan to rebuild the Palace began after World War II. To bring the Palace back to life,
the state of North Carolina purchased and removed over 50 buildings from the original Palace land, re-routed Highway 70, and moved the Trent River Bridge. Once again artisans and materials came from Europe and America to create the Palace. As result, present-day Tryon Palace stands as one of this country's most thoroughly documented reconstructions of a major colonial-period building.
Tryon Palace Historic Sites and Gardens also includes three other important landmarks and 14 acres of gardens.
The John Wright Stanly House, built in 1779, reflects the wealth of its owner -- a
powerful New Bern citizen whose merchant ships raided British vessels to aid the American cause during the Revolutionary War. The Dion-Stevenson House was owned by George W. Dixon, a merchant, tailor, and one-time mayor of New Bern. He built this home between 1826 and 1833 on a lot that was originally a part of Tryon Palace's garden. A fine example of neoclassical architecture, the house epitomizes New Bern's life-style in the first half of the 19th century. More than two hundred years of gardening history burst into bloom for visitors to Tryon Palace Historic Sites and Gardens. From the simple beginnings of colonial times to ornamental gardens of William Tryon's day, stroll through the Wilderness and discover plants that early colonists encountered upon their arrival; enjoy showy displays in the Colonial Revival gardens created during the 1950s restoration. We really enjoyed going through the Palace and surrounding buildings and highly recommend it to anyone traveling through the area. If you'd like to see more about the Tryon Palace, take a look at their website at: http://www.tryonpalace.org.
Good Luck! Have Fun! and Stay Safe!
Laura
HOME PAGE