Auman
Museum of Radio & Television
215 N. Tuscarawas Ave.
Dover, OH 44622
330-364-1058 or 243-4055
July 13, 2005
One of the great things when we travel is being able to "discover" new things and new places. A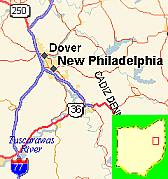 friend of ours told Bob about a carving museum called Warther's. While visiting the town we drove past a little store front museum with a sign on it indicating the Auman Museum of Radio and Television. The sign in front said it was open by appointment anytime, evenings, and weekends. Usually we only visit museums that are open full time, but this time we decided to call the number listed. Mr. Larry Auman was most gracious and agreed on a time to meet us. As we were let into the museum we found out the reason behind the museum. It seems that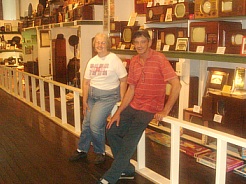 Larry was a true radio/TV buff who started out collecting old TVs and radio's from friends, relatives, and neighbors. He soon found himself outgrowing the storage space he had at his home. He found the little store that he has now and the museum began.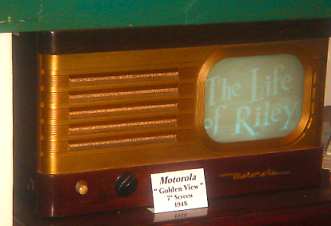 The museum has on display mechanical televisions from the 20's & 30's. Also, a 1939 RCA TV from New York's World Fair. How about Marconi's first TV from 1938, in addition to the first color TV (1954). Visitors can also view many games, toys and comic books relating to the very early shows of the 1940's and 50's, along with props from movies and TV shows. Some of Larry's memorabilia from early Cleveland TV includes Dick Goddard's first weather gauges and posters of the Gene Carroll show. It is always fascinating to meet someone who allows the world to share his passion for his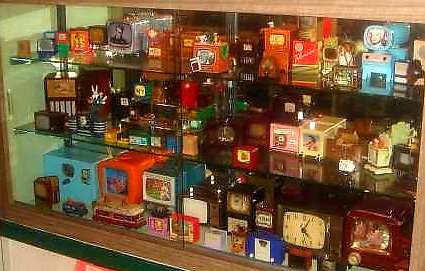 collections. I can't say that this museum would appeal to everyone, but if you (like us) can remember sitting in your living room as a small child and watching "the first TV on the block" then this place is definitely for you. Larry not only collected many, many radios and TVs, but he had the ability to make most of these workable. In many cases he had to cannibalize several models to come up with one workable one. In addition to having radios and over 300 TVs: (his Tvs span from 1930 "The Mechanical Era" to 1950 "The Golden Age") he also features hundreds of games, toys, comic books, and other related
items pertaining to television memorabilia! The walk through the museum was definitely a "walk back in time" for Bob and I. As a young man Bob ran a 35mm projector in a small theater in his home town. Would you believe Larry had one there? As a little girl I remember having one of the first TVs on the block a round screen Zenith. Yep! there it was. We spent almost two hours just walking through the museum with Larry and looking at the various items. Although it's not a large museum if you have a past connected to the growth of the TV and Radio industry this is definitely a must see for you.

Good Luck! Have Fun! and Stay Safe!
Laura