Wakulla Springs State Park
The River Time Forgot
Wakulla Springs, FL
January 15, 2000
I
can remember sitting in the theater in the town where I grew up, watching the old Sci-fi movies about the dinosaur period. All those old spooky swamps with the strange and dangerous creatures lurking just under the surface of the murky water as some hero desperately tried to gain ground on the specific monster that had captured the heroine. Afterwards I would day dream about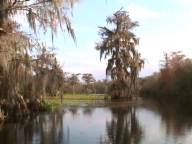 going to such a land and drifting down one of those neat still water channels with all the creatures around me. Of course I never really planned on doing that, but then some 50 year later, I was afforded an opportunity to fulfill this small fantasy. It started, most innocently, with Laura, as usual, handing me a small non-descriptive brochure for one of Florida's less known secrets.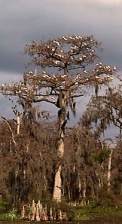 Wakulla Springs State Park in Wakulla Springs. The picture on the front of the brochure said it all, a disappearing trail of water through a green lush landscape with a myriad of creatures all about. It was as if it beckoned out of my past. Ah, but enough of the romantic -- on with the reality. We pulled into Wakulla Springs State Park and drove directly to the lodge. Behind the lodge was a piece of property which was, to say the least, priceless. Absolutely crystal clear water slowly flowing out through a pristine landscape of trees, ferns, moss and wildlife. In order to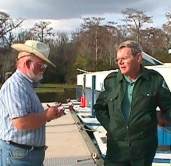 understand the natural wonder of this place it was necessary for us to take one of the guided boat tours. Our guide was a delightful man who helped immensely in building this story. Ranger Bill Boydston, who had been with the park for the last eight years. Bill explained that the natural beauty of Wakulla Springs evolved for the most part, as a result of its unique geologic history. For millions of years, Florida was a shallow sea bottom.

Over the eons, shells from billions of small sea creatures accumulated on the sea floor, slowly building a thick layer of rock called limestone. This limestone formed the bedrock under Wakulla Springs State Park today and contains the huge cave system which feeds the main spring. He went on to explain that the St. Marks Limestone Formation, as it is known, and the formations below it contain an immense body of fresh water called the Floridan Aquifer System.