Wall Drug Store
Wall, SD
June 25, 2006
Most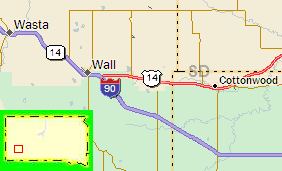 of the time when we do a story it is about a specific location in a town. However, with Wall, S.D., it is a little different. As we drove along the roadways approaching Wall, we started seeing signs similar to the old Burma Shave signs. One of the signs that seems to be the favorite said stop by Wall Drugs and get "free ice water". Still other signs said, "Who has the gall to bypass Wall?" and "You'll get walleyed at Wall Drug." I can see how people who are driving along a road with few service stations and then see a sign saying "free ice water" might think it would be a good idea to head to "the store". It is a tribute to American entrepreneurialism that someone can take a small store-front drugstore and turn it into a large complex that draws thousands of visitors each year. It is always fascinating to see what tickles the public's fancy. Wall, SD, boasts a population of 800. In an era when other mom and pop stores are being overrun by large corporations such as, Walmart, Wall Drugs has certainly held its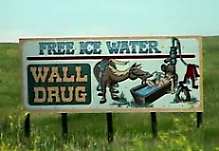 own. The present-day Wall Drugs now encompasses nearly 50,000 square feet of selling space. You can buy $400 alligator boots, models of Mount Rushmore, bottles of horse liniment and in the dining room feast on buffalo burgers while viewing an extensive art collection around the walls. The drug store was first founded in 1909, but the significant point in its history was when Ted Hustead bought it in 1931. At that time the store boasted huge sales of $300 a month. In 1954 they added a Western-style clothing shop, and erected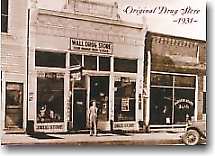 the now famous billboards along nearby highways. Business increased 30%. In 1956 they added a self-service cafe. Again business increased. Soon the pattern was set. As new wings and more merchandise were added, money rolled in. By 1983, Wall Drugs had a restaurant with four dining rooms, an apothecary, an art gallery, a theater, a jewelry shop, a souvenir stand, two bookstores, a shoe store (6,000 pairs of cowboy boots and Indian-made moccasins) and an outfitting shop offering backpacking equipment and saddles. Today, the store is three-quarters of a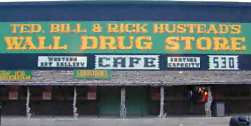 block long and this year will have sales of about $5.5 million. Because of advertising, some of it word-of-mouth, customers often have traveled long distances - and they expect "more than just a drugstore". Advertising has been the key to Wall Drug's success. They have over 500 miles of bill boards on Interstate 90, going all the way back to Minnesota. Each year, the store spends $300,000
on billboards that appear not only in the US, but in subway stations in London and on road signs in Paris and Rome. In Amsterdam, the Netherlands, a sign proclaims that is it only "5,397 miles to Wall Drug, Wall, SD, USA." There were 127 Wall Drug signs in South Vietnam during the Vietnam War. Soon there will be Wall Drug billboards along the Kenyan railroad from Nairobi to Mabasa, Zaire. I think its interesting that they went with billboards and road signs rather than TV or radio. And it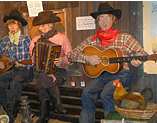 worked! The owner, Bill Hustead, isn't considering starting a new store. He said "Once you branch out, you lose your uniqueness. Our main drive has been to make Wall Drug a tourist center. We want people to see the Badlands of South Dakota and to stop at our store." Well, judging from the volume of business they do they have certainly achieved that goal.
Something that really brings in the tourists is the fact that they have something that appeals to the entire family. There's shopping for Mom, strange animals and animated characters for the kids and history memorabilia for Dad. Plus food for everyone.
So, if you ever get anywhere near Wall, SD, be sure and stop by for "a free ice water" and the interesting surroundings.
Good Luck! Have Fun! and Stay Safe!
Laura