The Warther Museum
Ernest "Mooney" Warther
Dover, OH
July 7th, 2005
As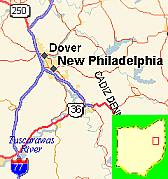 we travel back and forth across North America, we are always on the alert of something new and interesting. Sometimes we simply drive up on it, quite surprised, and on other times it is the work of long distant plans which have been on hold for months, if not years. So it was, while sitting around a picnic table in central Florida, one day last winter, that we first heard about the fantastic carvings of Ernest Warther. Having carved most of my life, I was immediately interested in the story. Soooo, as we passed through Ohio, en route to New England for the summer, we plotted our course through the small community of Dover, less than 100 miles northeast of Columbus, Ohio. Ernest "Mooney" Warther was born in Dover, Ohio, on October 30, 1885. His parents, who had immigrated from Switzerland, were of modest means.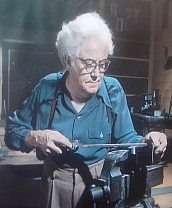 When Ernest's father died, Ernest was only three. His mother had to get by the best she could, by taking in wash and boarders. Ernest only attended school to the second grade, as every effort was required just to keep food on the table. In the late 1800s, most of the towns folks owned a cow or two for milking. Ernest spent most of his time walking the cows from town to the pastures on surrounding farms, and then back again in the evenings. It was this endeavor that earned Ernest his long lasting nickname of "Mooney", which is Swiss for "Bull of the Herd". So the story goes, Mooney was walking the cows one day when he found an old penknife laying on the road. With many hours to spare waiting for the cows, he soon began to create rustic carvings. One day a passing hobo carved a pair of wooden pliers for him. Mooney was fascinated and took the toy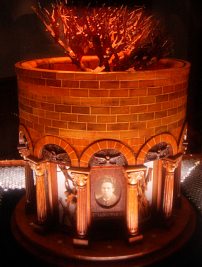 home to study it. Soon he was producing carved pliers and over time it became his trademark. One estimate holds that he carved over 3/4 of a million pliers in his lifetime. As we arrived at the museum, we were invited into a small auditorium where we met the grandson, who after giving a short opening statement, whipped out his own now famous multi-blade pocket carving knife and in just seconds converted a small squared stick of soft wood into one of the trademark pliers. I never had an opportunity to examine the pliers as he handed it to a small girl who ran off. There are only about 10 cuts to the design. To make it more interesting, Mooney would carve each handle of the pliers into another pair of pliers. He continued this until he created a masterpiece. From a large solid block of wood he carved a large pair of pliers, then carved the handles, then carved those handles into more pliers. He continued this for some 31 thousand cuts or until he had created 511 pliers, all connected. He built this into a round carved display wheel where it sits today. The design is such that when all pliers are folded up, they return to a solid block of wood.
By age 14, Mooney was old enough to join the work force proper and so he went to work as a scrap bundler in a local mill. He worked there for 23 years until his real calling took over his life. At 28 he was prepared to take the next step in his carving adventure. He build a very modest workshop, and by his own additions, quit the whittling business to get down to serious carving. The workshop is now attached to the museum. Within this small workshop Mooney saw his other true love merge with his love of carving. From the first day, he began a life long labor to re-create in miniature, the locomotives that he so admired. When seen in their entirety, the train carvings span the evolution of the steam engine in sixty-four carvings starting with the Hero Engine of circa 250 BC to the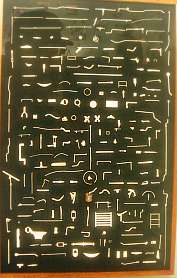 Union Pacific Big Boy Locomotive of 1941. During the 23 years at the steel plant Mooney learned to forge and temper steel from a neighborhood blacksmith. He put this knowledge to work when he became discouraged with the carving knives he had been using. They just weren't right. Soon he was doing detailed carvings with specialized blades of his own design. So the story goes, his mother's complaint about a dull kitchen knife started a new adventure in his life. The small paring knife he made for her soon became the talk of the sewing circles and the requests for knives rolled in. When the mill closed down for a while, Mooney launched himself into creating a set of kitchen knives for sale. This was the beginning of the Warther Kitchen Cutlery business which is still running today. Armed with specialized knives made of the highest quality steels, Mooney was able to create models that most carvers only dream about. His approach was one of absolute dedication to accuracy. To this extent, he would carve the parts of a train separately then attach them properly to the carved body. He used ivory and ebony to make stark contrasts. One board on a wall contained all the small intricate parts that he was required to make. That is far more dedication that I'll ever have.

After 23 years at the steel plant and some 25 locomotives on display at his house, Mooney enjoyed quite a name for himself as a first class detail carver unrivaled at the time. When the New York Central Railroad heard about Mooney's carvings, they talked him into quitting his job at the mill and going on tour for the Railroad for 6 months after which he was to go to Grand Central Station in New York for another 2 1/2 years with his creations where he would talk about carving and make souvenir wooden pliers. When his contract was up, the Railroad offered him a whopping 50 thousand dollars for his collection. When Henry Ford heard about the offer he increased the amount but Mooney, who considered himself a simple man, turned them all down, returning with his treasures to the home where it all started. Upon arriving home, he decided not to return to the steel mill. Instead he started the knife shop back up again, and began charging a small admission to see his carvings at shows. He continued this through the great depression of '29 until he built a small building to display his works. The carvings remained there until 1963 when his son built a large building which houses the museum today. World War II found him with mixed feelings.

He hated the idea of war but wanted to support the men. He once again turned to his small machine shop to make what he knew best. Over the next 4 years he produced approximately 1100 hand forged commando knifes for those who asked for them. Each one was made specifically for an individual service man, complete with the man's name stamped into a brass plate in the cocobolo handle. Today they are considered prized possessions by those who have hung onto them. It is said that he was grinding out yet another commando knife when word reached him from town that the war had ended. He put the knife down and never finished it or any other. The last commando knife is now on display in the museum.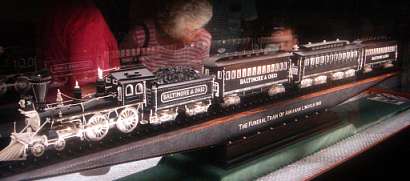 Mooney continued his love of locomotives, carving each and every one with such care that it was hard to believe that they had been created with an edged blade. Most were created by making the parts such as wheels and rods and then hooking them up to make a perfect moving train. In 1953 at the age of 68, he realized that the dreaded Diesel powered train had arrived and the age of steam was passing by. He was determined to never carve a diesel and so turned his attention into yet another direction. At the age of 72 he picked up his knife again and began what he called the "Great Events in American Railroad History". These diorama-like complex creations are masterpieces of events in history which were significant to Mooney. By age 80 he was back to his first love. Trains. One of his most endearing creations is the Lincoln funeral train, in ebony and ivory with mother of pearl. He was still carving at 87 when he died leaving an unfinished work sitting on the workbench. This is a great place to see something out of the way and different and for train buffs and carvers this is an absolute must,
***THE END ***