Wheaton Village
1501 Glasstown Rd.
Millville, NJ. 08332
October 12, 2001
As usual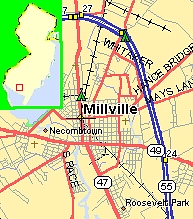 when we travel, anytime we find a listing for a living history museum we try and include it on our itinerary. Such was the case with Wheaton Village. Although, Wheaton Village was a little different from most of the living history museums that we have gone to. Usually the museums we go to showcase a particular period in time. Then everyone in the village follows that theme. Wheaton Village is centered on the T.C. Wheaton Glass Factory. This is a working glass factory. You can go into the factory and watch the glass making progress from the very beginning to the lovely finished products which are for sale. They also have a program where you can make your own paperweight. After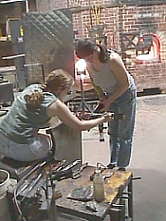 watching the glass making you absolutely have to go into the museum of American Glass and see the hundreds of pieces of glass that they have on exhibit. I think you get a much better feeling for the finished glass pieces once you see the effort that goes into creating them. I have seen glass museums before but this is by far one of the best. This museum houses the finest, and largest, collection of American glass in the country. Beyond the gleam of the elegant lobby, the story of glass unfolds. As you walk through the spacious halls and sunlit galleries, the thousands of colors and shapes create a panorama of American glassmaking. The comprehensive collection of over 6,500 objects range from Early American bottles and flasks, Mason jars, and paperweights to Tiffany masterpieces and the world's largest bottle. Each room is a different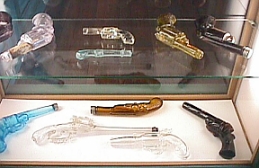 chapter in the saga, with changing architecture providing an interplay of elegance and simplicity. We found out that the first attempt at glassmaking in the New World was in Jamestown, Virginia, in 1608. Three later ventures were tried in New York, Philadelphia and Salem, Massachusetts. It wasn't until 1739 that the first successful glass factory was established by Caspar Wistar in Alloway, New Jersey. The Wistar factory operated until 1777. Wistar defied English policy forbidding all manufacturing in the Colonies. America was to supply raw materials for England and furnish a market for English goods. After the Revolution, the number of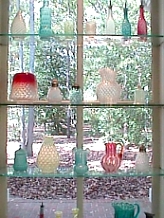 glass factories steadily increased, meeting the needs of the new nation. The Wheaton Village was very well laid out on a beautifully landscaped site. Besides the museum and the glass factory they have several other buildings. One of the buildings is the crafts and trades row. It includes several working artists creating individual works in such mediums as pottery, woodcarving and, of course, glass. There is also the Down Jersey folklife center. As New Jersey's first regional folklife center they display examples of artistic and cultural traditions maintained by residents of the state's eight southern counties. You'll learn how diverse ethnic, regional, and occupational groups make up the living culture of "Down Jersey." Discover traditions ranging from lifeguard shore boat races and split-oak basket making, to the delicate art of "origami." In addition to these buildings there are various stores including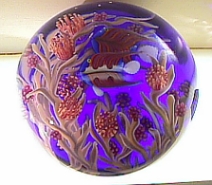 the Gallery of American Craft which includes American crafts and one-of-a-kind contemporary works in all media including pottery and glass items, by the Village artists. There's also an old fashioned general store and a brownstone emporium. Then you can always stop by the Christmas Shop where they feature lovely hand blown glass ornaments and icicles. In their Arthur Gorham paperweight shop they feature one of the largest selections of traditional and contemporary paperweights in the world. Other buildings include a stained glass studio, and a Centre Grove Schoolhouse from 1876. You can board the half-scale model of the 1863 C.P. Huntington Train at the restored 1897 Palermo Train Station. Whether or not you have a strong interest in glass, it is a lovely place to spend a day just watching the artists at work.
If you want to learn more just log onto their website at: http://www.wheatonvillage.org.
Good Luck! Have Fun! and Stay Safe!
Laura