Old World Wisconsin
S103 W37890 Highway 67
Eagle, WI 53119
May 27, 2002
Once again we were fortunate enough to find one of our favorite attractions; a living history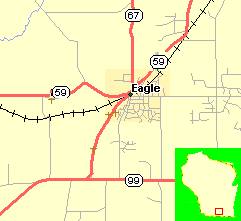 museum. This one was simply called Old World Wisconsin. This museum is one of the largest that we have seen to date. It is located on 576 acres of beautiful rolling, wooded land in the southern part of the Kettle Moraine State Forest. Wisconsin gathered buildings from all parts of the state and restored them on their present locations. They have staff dressed as people who performed the tasks commonly done by rural people in Wisconsin in the 19th and early 20th centuries and engage the visitors in conversation. Old World Wisconsin is an open-air museum that explores the lives, ideas, and challenges of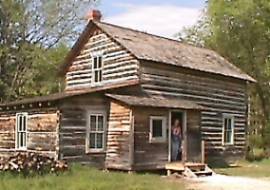 those early settlers. The buildings, folkways, and activities presented here illustrate how people held onto some unique cultural traits while others merged with or were gradually supplanted by dominant Yankee traditions. Fields and gardens are filled with heirloom varieties of crops and flowers, and farmers tend now-rare breeds of animals, such as Durham oxen and cows, Linback and Devon cattle, Morgan-Percheron horses, Merino and Cotswold sheep, and Ossabaw, Berkshire,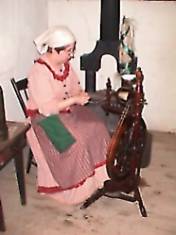 and Tamworth hogs. Houses were filled with the aroma of baking bread, tantalizing meals, and the clatter of spinning and other household tasks. While exploring the park we found out that when Wisconsin became a state in 1848, its population consisted largely of Native Americans, adventurers from the eastern states, descendants of the French voyageurs and fur traders, and miners from Cornwall. Wisconsin was then part of the American frontier, and a new population seeking a fresh start poured in. Landless European peasants built family farms and found economic opportunities. Religious and political freedom beckoned the oppressed, and enterprising immigrants sought their fortunes. Throughout the 19th century, Wisconsin's immigrant population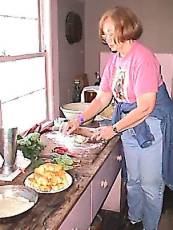 continued to grow in numbers and variety. Settlers arrived from Ireland, Wales, Germany, Poland, Switzerland, Norway, and other European countries. Although most of the immigrants settled in urban areas or rural villages, many settled on farms, and by 1880 the majority of the state's farmers had come from Europe. In fact, Wisconsin became home to more foreign-born farmers than any other state, creating a mosaic of distinct ethnic landscapes. The park was opened in 1977 with 10 buildings. It represents many different immigrant ethnic groups broken down into African American, German, Polish, Norwegian, Danish and Finnish plus an area called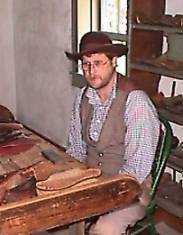 the ethnic crossroad village. We enjoyed watching the cobbler make shoes. He made round holes in the sole of a shoe then pushed in hand-carved maple pegs which were square. The leather had been soaked and was thus more pliable. After the pegs were pushed in the leather was dried which caused the holes to shrink this was used instead of stitching.
We learned that spinning linen took 1000 hours to make a simple shirt from planting the flax, through spinning the thread, to weaving the material and sewing the shirt. The flax had to be constantly kept wet to keep the fibers from coming unraveled. While it is entirely possible to walk the park area, I would definitely recommend spending the few dollars extra to purchase wagon tickets. That way you can ride from area to area, get off walk around and see everything and then proceed to the next area. This is definitely a historic attraction well worth the several hours required to see it all.

Good Luck! Have Fun! and Stay Safe!
Laura