Las Vegas
The City That Never Sleeps
Las Vegas, Nevada
November 28-Dec. 5, 2001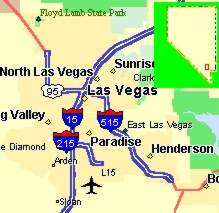 There are so many websites and brochures dealing with Las Vegas and where to go to gamble (and lose) that I wanted this story to cover a different aspect. Fortunately I had several good friends who were familiar with Las Vegas and were able to give me some pointers before going there. What I've tried to do here is give you an idea of what you can go and see WITHOUT spending a lot of money. If you're like us and have never been to Las Vegas before I can tell you it's absolutely OVERWHELMING!! You arrive in town and pick up all the "tourist attractions magazines". Then you sit down for hours trying to decide where to go and what to see first. I decided to check with my "sources" to see what we just couldn't miss. My sources are varied. There is one couple who had been to Las Vegas just last year, plus I have two friends who come to Las Vegas several times each year. I promptly set out E-mailing them all. Well, lo and behold, there were repeats in all their emails.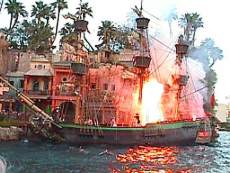 That cinched it! I figured out our itinerary and off we went. Well, believe me even then it was a task to see everything we wanted to see in Vegas, plus Hoover Dam, in a week's time. Most of it went on schedule. One time the weather wouldn't cooperate. We went to see the Pirate fight at Treasure Island and due to the extensive pyrotechnics used in the show, the wind was so strong they had to cancel the show. (NOTE: always have an alternative plan) So we were off on Plan B. As one of my friends reminded me, when you start walking from one spot to another the casinos look a lot closer than they really are. Plus, in some areas you can't cross the street directly. You have to go up to a walkway that takes you to the next casino then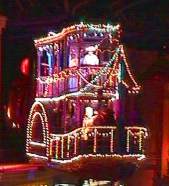 you can go back down. In most cases though you can take the escalator or moving walkway. Of course in several places I had to try my luck at the slot machines. Bob doesn't gamble at all. I lost nickels, quarters, and a few dollars. Needless to say Vegas is none the poorer for my venture. I was kind of tempted to take one of their classes on Blackjack offered by a number of the casinos but never got around to it. Guess I'll always be a small gambler. Probably best that way. There are any number of free things that you can go see. We focused on those so that we would be able to share them with anyone coming here for the first time. I can honestly tell you that one week is definitely not enough time to see everything in Vegas. I'm not sure that even two weeks would be enough if you didn't try to include at least two or three things each day. Of course, there's no time limit for when you can go as everything is open 24 hours a day. We went to brunch one Sunday morning and the streets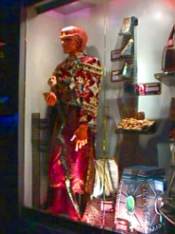 were almost as crowded as they were on a Saturday night. The restaurants here are unbelievable. It seems that everyone tries to outdo everyone else. Buffets everywhere. I have been told that downtown Vegas has the best values in food, but we never made time to get there other than just drive through. We did go to a couple of virtual reality shows. One was in Caesar's called Race to Atlantis. That was done wearing 3D glasses and made both Bob and I a little nauseous. However, the second one was at the LV Hilton and it was called Star Trek The Experience. In addition they had an extensive museum with a number of Star Trek items. WOW! I am a real Star Trek fan anyway and it was terrific. I'm not going to reveal the plot, but it was a lot of fun.