A Day to Remember
The Oklahoma City Bombing
Oklahoma City, OK.
March 19, 2000
A visit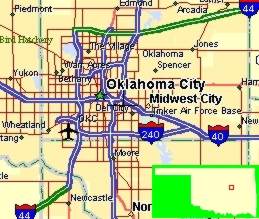 to Oklahoma City wouldn't be complete without stopping by the Murrah Federal Building Memorial site. When we arrived it was sunny and cool. I stood near the statue of Christ weeping, and watched the people moving up and down the fence-line where small offerings of teddy bears and flowers lay, pinned to the fence in remembrance of April 19, 1995, when at 9:03 a.m., a horrendous bomb of nitrogen fertilizer hidden in a truck, detonated, ripping apart the nine story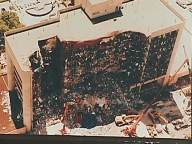 building and the lives of those who lived here. For several weeks, the world stayed glued to their televisions watching the rescue and removal of the debris. Within days, an arrest was made, and after the carnage which snuffed out the lives of 168 people, the world continued to watch as Timothy McVeigh was tried for their murders. His name has now been added to the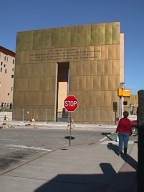 infamous list of American criminals such as Lee Harvey Oswald, and James Earl Ray. Within time, the remains of the building was imploded and removed, leaving a hole in the city and the hearts of the people. There is now a large golden wall erected at either end of the block, and a garden where the building once stood. Across the street is a small memorial where a statue of
Jesus weeping, stands facing a wall with 168 niches in it. The fence offerings are removed on a regular basis and stored for some future museum which will be built. The community is just getting around to the task of erecting a proper tribute to those who died. The "168 day fund raising" committee is under way and plans are being made. Although monuments can be built high and memorials long, the real tribute is in the faces of those who stand in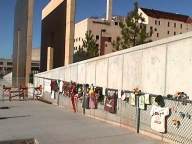 front of the fence and read the notes, or run a gentle finger over a small stuffed lion, tears streaming down their faces. The names of those who perished are fading. What remains is the image of the children and of innocence lost, and lives not fulfilled. The real memorial is the people who come by the hundreds and by the thousands to stand and feel, and cry.