September 4th, 2004
Its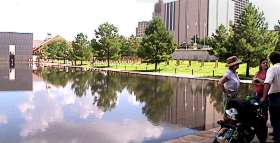 been 4 years since we last visited Oklahoma city and the Memorial site. It is complete. Designed soon after we were there, it took several years to get it all together. Many designs were offered. One was finally picked out of the over 600 offerings. Part of the decision was made by survivors, rescuers and family members. The memorial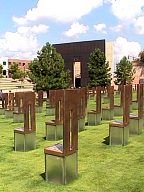 utilizes the actual ground that the federal building stood on. Only a portion of the east wall is still standing. The land, the building was on, is now a lush green lawn bordered by pine. Placed in the grass in a varied pattern, 168 chairs stand as a reminder of each life lost, symbolizing the absence felt by family members and friends. The chairs are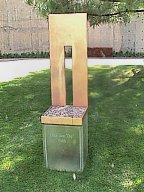 placed in 9 rows, representing the nine floors of the building. They are also placed according to the floor on which those killed worked or were visiting. The symbolic chairs are designed in two sizes, the smaller size represents the absence of the 19 children who died. Each chair is crafted of bronze and stone: its glass base is etched with the name of a victim. At night, each chair is set off by a glow from a small light under it. Fifth Avenue which ran in front of the federal building is gone. Replacing it are two gates, one at each end of the memorial park.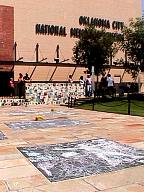 Known as the 9:01 gate and the 9:03 gate, they represent the last time when the city was at peace, and time when the city was changed forever. These numbers appear near the top of the monoliths. Between them, along where 5th Avenue would have been is now a reflection pool. Only a fraction of an inch deep, ducks that visit it, find themselves wading rather then swimming. There is now a museum on the north side of the memorial. As we approached the front door, we found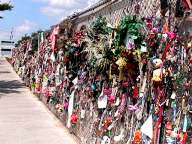 that the walkway had large rectangles painted with blackboard paint, and boxes of large chalk placed about for the children to express what they were feeling. Near the front door is a wall covered with tiles made from drawings done by children about the tragedy. The museum is a paid attraction owned by the Oklahoma City National Memorial Foundation and is affiliated with the National Park Service. As a photo-journalist I refuse to review any attraction which maintains a policy of "no photos allowed". As such I leave this museum to someone else to review.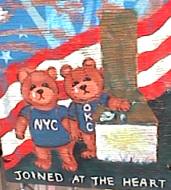 One of the most emotional points of our first visit was seeing the security fence surrounding the bomb site and all the mementoes attached to it. Those items now total more the 50,000 and are collected and preserved in an archive. The fence was moved to its current site by family members, rescuers and survivors at the time of the ground breaking. Today, more then 200 feet of the original fence gives people the opportunity to leave a token or message. I walked down the fence slowly looking at photos of loved ones, poems written, and a menagerie of stuffed animals until I came across a hand painted wood panel. It was at that point that I could no longer hold it together and turned away. It is a horrendously emotional experience.
*** THE END ***