Port Townsend
Old seaport on Puget Sound
Port Townsend, WA
August 25th - September 1st, 1998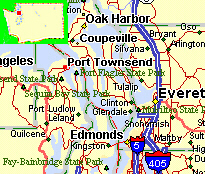 Having pulled out of Mt. Vernon, we headed for the coast and the ferry port of Keystone. Here we boarded, truck and trailer onto the Klickatat, a large double deck ferry which easily held many cars, a large semi-tractor and a couple of rigs like ours. $40 dollars for the 30 minute ride to the historically rich town of Port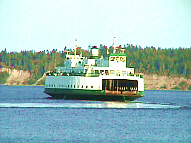 Townsend, on the Olympia peninsula, Washington's second oldest city. Port Townsend began as a farming, logging and seafaring town. By the mid-1800's it had become a thriving seaport with a reputation as notorious as San Francisco's Barbary Cost. Shanghaiing and crimping were commonplace as frigates struggled to fill crew lists for trips to the orient. Bars,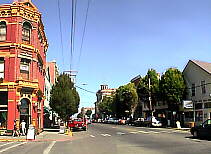 brothels, and gambling halls lined Water street. When the railroad failed to build its terminus here, the economy sagged but the prosperous times returned with the creation of Fort Worden and other coastal artillery emplacements as America beefed up it's protection against hostile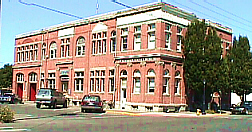 invasion along it's western shores. Today Port Townsend is a booming tourist town boasting of being the North West Capital for Bed and Breakfast Inns, most of which are survivals from the first boom age, and many date back into the 1800s. As this is one of the most historical towns in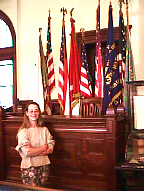 Washington, a good place to start is the Jefferson County Historical Museum at Water and Madison Sts. We stopped by and met the charming Dr. Niki Clark, an anthropologist and Director of the museum. She explained that the building was originally the county court house, police station, jail and fire house. All four floors contain material gathered in and around the town. The court room which is the main entrance, displays a panoramic old black and white photo taken of the entire waterfront just before the turn of the century. Dr. Clark took over the museum in 1994 and has strived to move it from its original static form to a hands on personal museum. One can visit their web-site at http://www.ptguide.com.