The Kentucky Scottish Weekend
May 11th and 12th 1997
General Butler State Park
Carrollton Ky.
Sunday, May 11, 1997
Well, here we are in beautiful downtown Carrollton KY, or actually at a Holiday Inn on the outskirts thereof.
We are enjoying the 17th annual Scottish Highland Festival at General Butler State park. It was a quiet ride down, directly to the park, arriving around 9:30AM, The festival hadn't even started yet, and it was cold. It had rained the night before, and the grass was soaked, We found what little high ground there was to park the car. For the first part of the morning we wandered the booths perusing the Scottish heritage and music, to a soft cacophony of Celtic style music. We stopped by to review the junior highland dance competition then moved on to what was to become one of the better parts of the trip.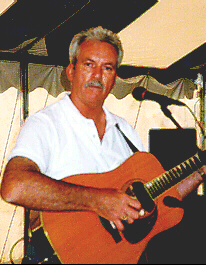 Alex Beaton , a Scottish immigrant with a golden baritone voice and delightful way of picking a guitar. We settled in for the next hour to listen, after which Laura took up a conversation with him which led to an autographed copy of some of his songs on tape. The man was delightfully entertaining and personable in conversation covering a wide range of topics as we waited idly for the next event. By now the cold and sleep was overtaking as Laura had worked the night before, so we abandoned the fun temporarily for a stop at the motel and a room with a nap in mind. Cresta, who said her name was taken from a character in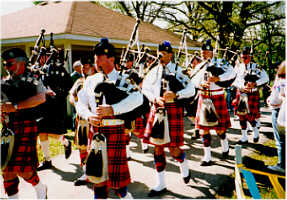 "Soldier Blue", checked us in, and although no rooms were ready, she worked her slow KY magic and produced a place for us. 10 minutes later we were sleeping like babes.
Back up at 2, we returned to the park, which was now warm and sunny, and finding a nice knoll, parked ourselves on the grass to watch the piper's competition.
We unfortunately had just missed Hamilton County's own Sheriff Simon Leis' pipe and drum band. Very sharp dressers, and apparently talented, as we would later attend the closing ceremonies where they received a 3rd place overall standing in their class.
---